Report: 76ers, Nuggets, Celtics could be third team in Love trade
No matter who gets Kevin Love, they're probably going to need a third team. And teams are lining up to take that slot.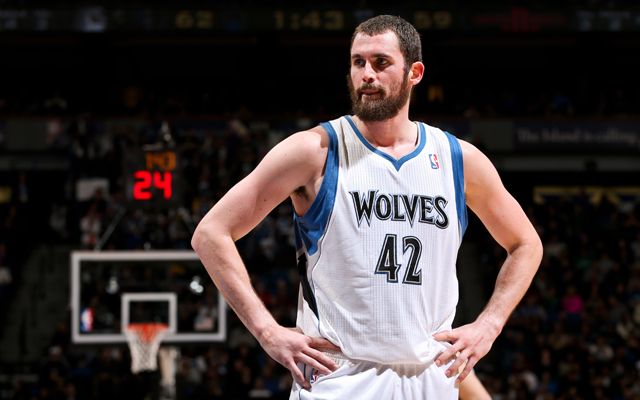 Offseason: Free Agency | Latest from Ken Berger | Rumors
The Sporting News reports that teams are "lining up" to try and be the third team in a potential Kevin Love deal, no matter who gets Love. The Nuggets, 76ers, and Boston are mentioned as potential landing spots for extra assets in a Love deal. 
"When a deal like this takes a long time, there are going to be more ants circling the picnic," one front-office source told Sporting News. "This is not likely to be a one-to-one trade."

When the Lakers and Magic pulled off the Dwight Howard trade in the summer of 2012, there wound up being four teams involved, with the Sixers and Nuggets adding players.

Sources told Sporting News that Philadelphia and Denver, again, are interested in participating in whatever deal happens for Love. Denver has interest in acquiring Love themselves, while the Sixers would like to facilitate a trade by including forward Thaddeus Young.

Boston, another source said, would like to acquire Love, but would be willing to include some part of its trove of draft picks if they would help bring in a player who can contribute immediately.
via SN Sources: Franchises flock to facilitate Kevin Love trade as third team - NBA - Sporting News.
Problems exist for each potential suitor for Love. 
Cleveland has young prospects, but doesn't have cap relief, established players, or multiple first-round future picks. 
Golden State has established players, but doesn't have cap relief, young prospects, or draft picks beyond their No. 1 next season. 
And Chicago has established players, young prospects, and a protected pick from the Kings (most notably only 1-10 protected in 2016; the Kings have to be good sometime, right?). But they don't have expirings. 
Minnesota wants the right combination of those elements for Love, and they have leverage with seven months left until the trade deadline. But word of there being movement towards a three-way does indicate advancement of deals, to indicate one or more of the suitors has a baseline package Minnesota would be interested in, if they can fill in the holes with assets from a third team. 
Denver has Wilson Chandler, Danilo Gallinari, Kenneth Faried (in his last year before restricted free agency), and rookies Gary Harris and Jusef Nurkic. And on the very, very outside of this whole thing is the fact that Ty Lawson is not completely, 100 percent, totally unattainable. It would take a massive offer to get Lawson loose, but any deal that gets JaVale McGee's two-year, $23 million contact off the books might help grease the wheels. 
The 76ers, as stated in the Sporting News report, have Thaddeus Young, an impact player, multiple future second round picks, and of course, young prospects, but they're less likely to want to surrender those. 
And Boston.... remains Boston. Forever in flux between a true rebuilding project and trying to put together another run with multiple stars next to Rajon Rondo. They do have multiple first-round picks, young talent, and expirings. They can put together essentially any deal. 
Things continue to move towards a Kevin Love deal. But will the momentum actually result in a trade?
Some of the best and worst from the league as we head into the home stretch of the season

Cuban acknowledged that tanking is 'brutal' and that he will no longer do that after this...

Cho has been the GM in Charlotte since 2011
Fergie: 'I'm a risk taker artistically, but clearly this rendition didn't strike the intended...

Victor Oladipo had a successful R&B album over the offseason and Jamie Foxx is a fan

Klay Thompson makes sure he stands out during All-Star Weekend