Report: 76ers release Royce White
Former Iowa State Cyclone and Houston Rocket waived by Philadelphia in latest bump in the road.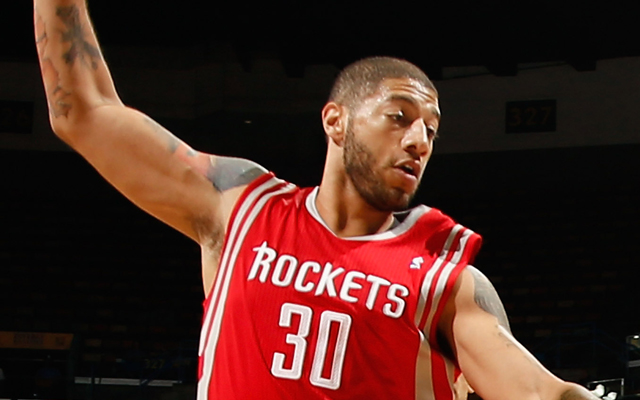 Just a year after he first opened his NBA career, then with the Houston Rockets, Royce White's career is reportedly over for the time being. 
Source says  Khalif Wyatt, Mac Koshwal, Vander Blue  and Royce White all released.

— Bob Cooney (@BobCooney76) October 24, 2013
White, who struggles with anxiety disorder and who clashed with Rockets officials constantly in Houston, was thought to have been turning over a new leaf with a tanking rebuilding Philadelphia team. White, who does struggle with the condition but also routinely has clashed with anyone attempting to build structure around him.
He was traded on July 5th from Houston to Philly as a move between 76ers GM Sam Hinkie and his former boss Daryl Morey. In mid-October, he did actually play in a preseason game, and coach Brett Brown had expressed hope that White could hold onto a spot. But apparently not.
S/O to the @Sixers... Good luck to my boys, great guys. #BeWell

— Royce White (@Highway_30) October 24, 2013
White told reporters last spring that some people in the NBA "want (him) gone." The former Iowa State Cyclone is only 22, and is clearly still talented. The question will be whether White will make enough of an effort to get on with another team, and if that team will be willing to deal with what is a pretty clear history of behavior disruptive to the team concept. I wrote about the kind of struggles White would face in the NBA with his condition last year before the whole mess started, but from the beginning it's seemed like the problem goes further than the mental condition he deals with. We'll see if he can grab on somewhere. 
The inaugural BIG3 season comes to a close Sunday with the championship game

Thomas was traded to Cleveland yet some fans are taking it out on him ... and his jerseys

The Celtics dealt the No. 1 pick to Cleveland as part of the Kyrie Irving-Isaiah Thomas tr...
Thompson was rumored to have been a point of discussion with the Cavs regarding Kyrie Irvi...

What the Celtics and Cavs look like after the Eastern Conference powers swap point men

Simmons was the No. 1 pick in the 2016 NBA Draft but did not play last season