Report: Adrian Griffin to interview with Cavs Tuesday, others to follow
Bulls assistant coach Adrian Griffin will reportedly be Cleveland's first official interview.
• 1 min read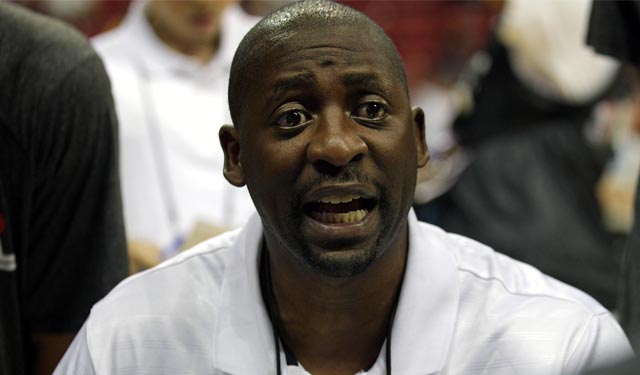 More Offseason Analysis: Coaching changes, news | Free Agency | Draft
Chicago Bulls assistant coach Adrian Griffin will be the first head-coaching candidate to interview with the Cleveland Cavaliers when he meets with them on Tuesday, according to the Cleveland Plain Dealer's Mary Schmitt Boyer.
Griffin served on Scott Skiles' staff in Milwaukee and Tom Thibodeau's in Chicago, and, if the amount of interviews he's had to be a head coach in the past few offseasons is any indication, it's only a matter of time before he makes the jump. He is in the mix for the Utah Jazz job, too.
Los Angeles Clippers assistant coach Tyronn Lue will be next for Cleveland, followed by Lionel Hollins, according to the Plain Dealer. They will also interview Vinny Del Negro and Alvin Gentry soon, according to USA Today's Sam Amick.
After firing Mike Brown a year into his five-year deal, new general manager David Griffin is under pressure to pick the right guy. With the No. 1 pick and the amount of young talent the Cavs have, they might be able to attract a big name, but that doesn't mean they will. An up-and-coming assistant is sometimes the best man for the job -- just look at what Jeff Hornacek did last year with the Phoenix Suns, David Griffin's former club.
Kris Dunn somehow took a chunk of the Bulls court out with his teeth, but didn't lose any in...

The fallout from the Rockets-Clippers tussle continues; no Clippers were disciplined

DH12 is picked for free throws after a teammate gets ejected. He makes both, and lets Scott...
Bell was injured defending a Robin Lopez dunk and had to be taken off the floor in a wheel...

Trevor Ariza and Gerald Green are reportedly both suspended two games

We've got all the scores, highlights and news from Wednesday night