Report: Al Jefferson agrees to three-year deal with the Bobcats
The Charlotte Bobcats have reportedly agreed to terms with center Al Jefferson, but they had to pay up big time to do it.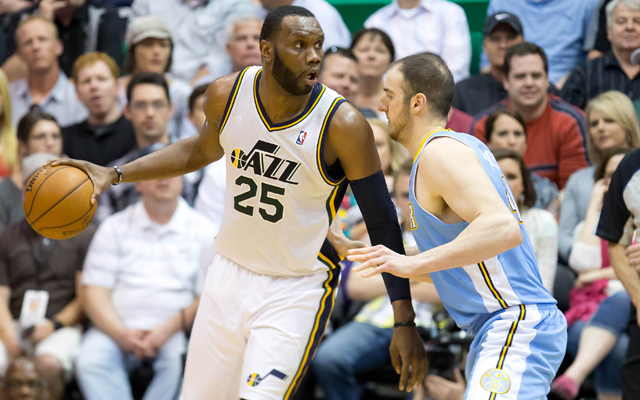 The Charlotte Bobcats are attempting to change their culture and recent misfortune. And they're spending big money to try to do it.
According to ESPN.com, Al Jefferson will sign a three-year, $41 million deal with the Bobcats. The deal has only been agreed to in principle as free agents can't officially sign until July 10. 
The deal reportedly has player opt-out after year two. 
Jefferson, 28, is one of the premier big men in the game, a throwback back-to-the-basket center who can dominate inside on the block. Last season in 79 games, he averaged 17.8 points and 9.2 rebounds. 
However, paying him nearly $14 million per year, that's a little iffy. Jefferson is a terrific center and can really provide a bunch of different options for you to either dump down to him or play pick-and-roll through him. The Bobcats desperately need interior scoring. Question is, do they really need it this badly? 
The Bobcats have essentially spent all of their current cap space and strapped down their roster for the next two or three years. Especially when Jefferson doesn't necessarily elevate the team to a new tier in the Eastern Confernece. The Bobcats are obviously better with him, but are they good enough to push for the eight-seed? 
They are the Bobcats, though, and convincing a big-name free agent to come your way means you might have to overpay. The Bobcats -- and more importantly, owner Michael Jordan -- are sick of being the laughingstock of the East. They want to get better. And while they've stocked up some intriguing young players, they also need some real offensive foundation. And Jefferson will provide them that. 
Kevin Garnett has no interest in working with Glen Taylor, but he'd gladly buy the Timberwolves...

LaVar Ball formed a pop up shop in New York to sell Big Baller Brand merchandise. The results...

The Cavaliers players took a stand against bullying on social media
The Rockets are gunning for their 10th consecutive win

Victor Oladipo just wants to live his life and enjoy his breakout season with his new team

Keep it right here for all of the news, notes, scores, and highlights from around the Asso...