Report: 'All indications' are that Kevin Garnett returns in 2014-15
No sign that The Big Ticket will walk away from the $12 million remaining on his contract to retire after a disappointing Nets season.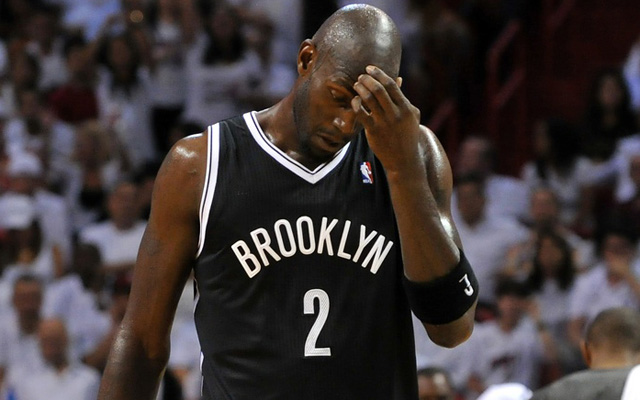 More Offseason Analysis: Coaching changes, news | Free Agency | Draft
The Nets' season ended not with a bang, but with a whimper. After a disappointing year that began with the team falling flat on its face out of the gate, only to rebound into one of the league's best teams from Jan. 1 on, the Nets were eliminated by Miami in five games, never posing a serious threat to the reigning champs.
The offseason brings questions about their future. Paul Pierce will be a free agent. Deron Williams will have ankle surgery, again. Brook Lopez' future with the team is up in the air after the team's success with small ball. Andray Blatche will opt out. And then there's Kevin Garnett.
Garnett has nothing left to prove in this league, but has wanted to make one more run for a second title. There have been questions about whether this would be KG's last year, questions Garnett himself has not answered. But the New York Post reports that "all indications" are that the Ticket will return for the final year of his deal at $12 million. 
Still, all indications have been — despite the drop in production this season — Garnett will be back in Brooklyn for what would be the 20th season of his stellar NBA career. The fact is $12 million is an awful lot of money – no matter how much you've made in the past – and after playing much, much better over the final few months of the season, it would be easy to see Garnett agreeing to rejoin Pierce for one final season in Brooklyn before riding off into the sunset next summer.
via Garnett's strong finish means a likely return to Nets | New York Post.
To be clear, this isn't a sourced application of Garnett's feelings on the subject, it's simply an indication of the absence of evidence that Garnett intends to retire. The Ticket could still retire, especially if Pierce isn't back with Brooklyn next year.
The question then is if Pierce will re-sign with Brooklyn. His old coach Doc Rivers waits in Pierce's home state of California with a team ready to contend vs. a Brooklyn team that quite frankly just seems like it struggles to do everything.
Garnett's role has decreased season by season as his athleticism has faded. He averaged 6.5 points and 6.6 rebounds this season for Brooklyn on 44-percent shooting in just 20 minutes per game.
In keeping with the discussion of Garnett, check out this excellent post on Garnett's 2004 Game 7 vs. the Kings, which was one of the greatest peformances of the post-Jordan era.
Another day, another social media beef for Embiid

We have all the latest scores, highlights and news from Wednesday's NBA games

Thomas spent a day with a 10-year-old girl whose family is also new to Cleveland
Barkley did not hold back with his opinion of the Big Baller Brand patriarch

LaVar Ball also made it clear he thinks his sons are being placed in 'a great situation'

The Thunder are just 12-14 on the season, despite the addition of Paul George and Carmelo...