Report: Amar'e Stoudemire declines option, stays with Knicks
Knicks forward will not enter unrestricted free agency until 2015.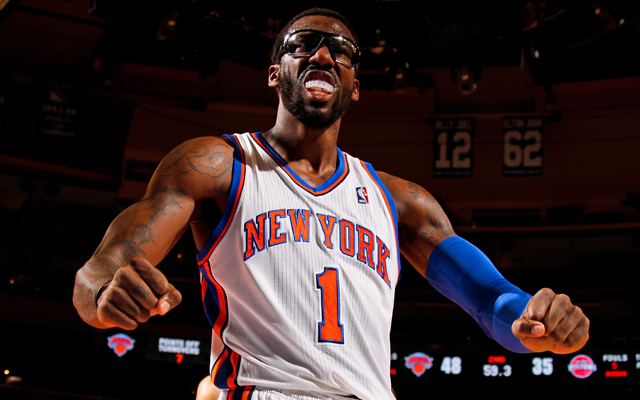 More Offseason Analysis: Coaching changes, news | Free Agency | Draft
As widely expected, considering the massive payday he's set to receive next year relative to his prospects in free agency, Knicks forward Amar'e Stoudemire is opting in to his deal for 2014-2015, according to CSN Northwest: 
As most expected, New York Knicks power forward Amar'e Stoudemire has declined to exercise his early termination option and will return to the Knicks for the 2014-15 season to finish out the final year of his five-year, $100 million deal, a league source informed CSNNW.com.

"He is opting in," said the source that spoke on condition of anonymity because an official announcement has yet to be made. If he had chose to exercise his ETO, he would have become an unrestricted free agent this summer.
via Source: Stoudemire declines early termination option, will return to Knicks | CSN Northwest.
Stoudemire is owed $23.4 million by the cap-strapped Knicks, who hope to clear space for 2015 to pursue a major free agent, hopefully to pair with Carmelo Anthony if he re-signs this summer. Anthony has planned to opt out of his deal reportedly and become a free agent. Stoduemire signed with the Knicks in 2010 and was thought to be the building block for a championship foundation. But injuries and an inability to mesh with Carmelo Anthony has left him a shell of his former self, unable to stay on the floor for consistent minutes or games. 
He was still productive in spurts last season, averaging 11.9 points and 4.9 rebounds while shooting 58 percent from the field in 65 games for New York last season. So one more year of STAT for the Knicks before one of the most disappointing contracts in their team's history, which is saying something, is off the books. And for the former MVP candidate, a year trying to show Phil Jackson he should remain part of the team going forward. 
It's possible Stoudemire could be traded, but expiring contracts like his no longer hold the same value under the new CBA. The Knicks would have to pay through the nose in assets to move Stoudemire, something that's unadvisable given their situation and nearly impossible anyway given the draft picks they've already surrendered. 
Oklahoma City has reportedly offered the MVP a five-year extension worth over $200 million

The big man was a big part of the Warriors' championship run last season

The Cavs jokes were out in full force after Golden State reportedly agreed to sign Antonius...
New York seems to be at the top of Irving's list of preferred destinations

Is it just a normal workout, or is LeBron continuing his recruiting efforts?

Chris Bosh answered on the spot about the LeBron James and Kyrie Irving situation