Report: Andrew Bogut to make return Monday night
Andrew Bogut will reportedly return Monday night vs. Toronto.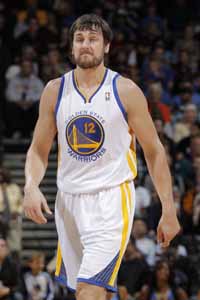 Bogut back Monday?. 
(Getty Images)
The San Jose Mercury News reports that Warriors center Andrew Bogut, who has missed all but four games as he continues to recover from offseason ankle surgery, could make a surprise return -- Monday night. 
Warriors starting center Andrew Bogut is aiming at coming back Monday night in Toronto. It will all depend on how he feels after pregame warmups. But multiple sources said Bogut is planning to give it ago.

At Monday's shootaround at the Air Canada Centre, Bogut was wearing his practice jersey on the blue side -- reserved for the starters. Plus there was a buzz about the center's probable return.

The Warriors are being quiet on the matter and coach Mark Jackson maintains his stance that Bogut will come back when he is ready. Bogut doesn't want to create a big to-do, one source said, and ramp up expectations. He and the Warriors have opted not discuss his recovery progress since news broke in late November that surgery on his left ankle in April included a microfracture procedure.
via Warriors' Andrew Bogut might play Monday at Toronto -- San Jose Mercury News.
The most recent word about Bogut's return indicated the possibility, not the likelihood, but the possibility of him returning after All-Star break. So yeah, this comes as a bit of a shock. Every step Bogut takes on the court will be as carefully considered as Stephen Curry's, given his injury history, but this is also a game-changing move in the Western Conference playoff race. 
The Warriors have already been one of the better teams in the league behind All-Star-worthy performances by David Lee and Curry. They've gone toe-to-toe with the best teams in the league and have snagged wins against the Clippers, Thunder and Heat. While they're not a serious title contender, they are a team who can make a significant ruckus in the playoffs, and that's before Bogut gets back. 
With Bogut, who knows? You're talking about adding a player who solves their rebounding issues, makes their superb depth even better, adds another low-post scorer, and helps cover the perimeter penetration allowed by Mark Jackson's defensive scheme which focuses on aggressive wing attack. 
We don't know what kind of Bogut the Warriors are going to get, if he'll go one game and then shut it down again. We don't know if he'll be anything like what we saw from him when he was healthy (all those years ago). But the idea is exciting. We'll see if Bogut can go, and what happens next. 
Silver said he was hoping Warriors would get chance to share their views directly with the...

Along with the Thunder, those were the three teams most involved in the Anthony trade talk...

LeBron said he was frustrated by the President's recent actions
A look at the various actors and elements in the latest sensational blockbuster trade in the...

Blockbuster deal doesn't change the Thunder's projected finish in the West

The Thunder strike again this offseason, and Knicks, entering a new chapter, also make out...