Report: Andrew Bynum injured knee bowling
Andrew Bynum injures other knee while bowling.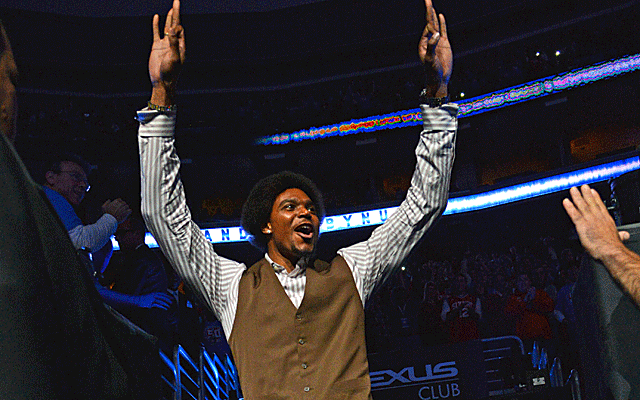 Multiple sources report that 76ers center Andrew Bynum injured his knee while bowling.
(Getty Images)
Andrew Bynum met with the media on Friday and said that he had injured his left knee compensating for the soreness in his right. It was strange, particularly when he noted that he had a bone bruise in the other knee. Now reports have surfaced on Saturday of how he injured the other knee, and it wasn't basketball. 
It was bowling. 
From ESPN: 
Multiple sources told ESPN on Saturday that Bynum suffered an unspecified injury this month while bowling. On Friday, Bynum revealed that -- on top of the issues with his right knee that could keep him sidelined until January -- he also had suffered a "setback" with his left knee.
via Sources -- Andrew Bynum of Philadelphia 76ers suffered setback while bowling - ESPN.
Let's be honest, here. Getting injured while bowling is pretty embarrassing. It's not Monta Ellis with the moped, but it's not how you want to lose a year, especially when you have repetitive knee injuries. 
But Bynum's been stuck without being able to do anything physically and he enjoys bowling. ESPN reports that bowling is not one of the prohibited activities in his contract. Still, the Sixers can't be happy with how this situation is turning out. Missing Bynum for a much longer time frame due to bowling?
Mark it zero, dude. 
Griffin said recently he thinks it's more likely that LeBron James goes to New York than L...

Mayo was suspended for two years last summer for violating the league's anti-drug program

The NBA broke its silence with a statement related to the Lakers-Paul George tampering cha...
The Clippers big man thinks LeBron will reunite with the banana boat crew at some point

Have the Clippers reportedly found their next GM?

The NBA stayed to the point in their response to the Greek basketball federation