Report: Andrew Bynum sends Sixers ticket sales through the roof
The Philadelphia 76ers' trade for center Andrew Bynum has been a boon for their ticket sales.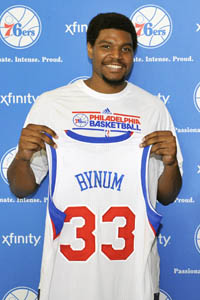 Andrew Bynum is already a big hit in Philadelphia.

(Getty Images)
The post-Allen Iverson Philadelphia 76ers were languishing.
There's no other word to describe the 11 seasons since Iverson guided the 2001 76ers to the NBA Finals. The team made four trips to the lottery, endured five first-round exits and won more than 43 games just once. During that stretch, Philadelphia won just two playoff series, including a gift last season when Chicago Bulls guard Derrick Rose went down with a season-ending knee injury.
Then: the Dwight Howard trade. Or, as they call it in Philadelphia, the Andrew Bynum trade. Back in August, the 76ers netted the All-Star center from the Lakers in a 4-team trade that saw Howard move to Los Angeles. Philadelphia, in turn, shipped All-Star wing Andre Iguodala to the Denver Nuggets and received guard Jason Richardson from the Orlando Magic.
ESPN.com reports that the trade for Bynum has provided a significant boost to 76ers season ticket sales.
CEO Adam Aron told ESPN.com the Sixers have doubled their season-ticket base (92 percent of season-ticket holders renewed with some prices raised) and quadrupled sales of their 10-game plans as compared to last year.

In an effort to sell more 10-game plans this offseason, the team recently sent out a postcard that includes a personalized website and picture of a Sixers shoe with that person's last name on it. The team sent it to more than 40,000 people who the team believes have been to a game in the past two years.

"Normal direct mail response is 2 percent," Aron said. "Our response so far is about 10 percent." 
Superstars sell tickets in the NBA. That's always been the rule. Bynum, a superstar in the making, arrives in Philadelphia at just the right time. He just finished a career year, posting averages of 18.7 points, 11.8 rebounds and 1.9 blocks. At 24, he's still not into his prime but the most difficult development years are behind him. He brings local ties, as he went to high school in nearby New Jersey. Perhaps most importantly, he will have the opportunity to sign a long-term extension that will lock him in as the face of a franchise, a role that he's likely ready for after playing second or third fiddle for the Lakers.
Given all of that, excitement around the team and consumer confidence are rightly high. Bynum has the potential to carry a whole era of basketball in a manner not seen since Iverson. As good as Iguodala was, he seemed to have topped out his ability to help the 76ers advance in the postseason and he didn't inspire the kind of buzz that Bynum does. 
Thanks to new initiatives by ownership, the 76ers were No. 14 in the league in home attendance last season after years of wallowing in the 20s. Look for that ranking to only improve in the coming years, as long as Bynum can stay healthy.
Thomas took to Twitter to let the Celtics know he doesn't want to ruin Pierce's night

The Hall of Famer was a seven-time All-Star with the Celtics, and was MVP of the 1976 Fina...

It's rare to see a legit punch in an NBA fight, but this was definitely one of them
We've got all the scores, highlights and news from an NBA Tuesday

The former Slam Dunk Contest champion will take his talents to Tri-State

Do NBA players have look-a-likes from famous paintings? We found out on the new Arts & Culture...