Report: Andrew Wiggins is the 76ers top target
The 76ers are trying to get the top overall pick. And if they do, Andrew Wiggins may be their top target.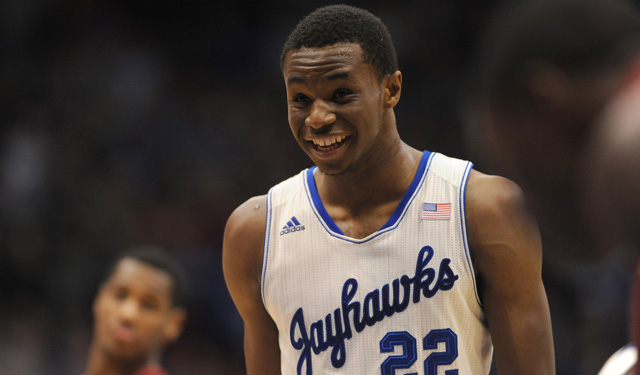 The Philadelphia 76ers have lost 22 straight games, and may not win another the rest of the season.
But you'll never believe this. It could be because they're trying to get a high draft pick. Just call it a hunch, I guess. 
Question is, if the Sixers were to land a top one or two pick, who might they be trying to get? According to ESPN.com, it's Kansas freshman Andrew Wiggins.
In the midst of a 20-game losing streak, the Sixers have had Wiggins atop their board all year, and believe he'd be the perfect complement to Michael Carter-Williams, Nerlens Noel, and Thaddeus Young. The athleticism on that team would be crazy.
No big surprise the 76ers would target Wiggins, because basically every other lottery team in the league is targeting him. But there are other options, like Jabari Parker, Joel Embiid and Julius Randle. 
The Sixers clear line of thinking, if they are in fact targeting Wiggins, is to add to their athleticism and length. Embiid is emerging as maybe the consensus No. 1 overall pick, but the Sixers are likely in search of starpower, and that often comes with a wing player. The potential of Wiggins exploding into an NBA superstar makes him incredibly intriguing for a building team like Philly.
Currently, the Sixers have the second-worst record in the league, giving them a 19.9 percent chance at the top pick. But with the strength of this class, they may only need to land the second, third or maybe even fourth to get their guy. Either way, if you have a top five pick, you're going to get a shot at a good player. 
Steve Kerr opens up about his back issues and more

OJ Mayo, banned from the NBA for positive drug test, is considering playing overseas

The King? 'LeBron, it turns out, is Aquaman,' or so the account via Dwyane Wade's wife goe...
From Penny to Thunder Dan to Pistol Pete to Agent Zero, guys who would be better in 2017

Griffin said recently he thinks it's more likely that LeBron James goes to New York than L...

Mayo was suspended for two years last summer for violating the league's anti-drug program