Report: Arron Afflalo wouldn't mind being moved to playoff team
Orlando Magic guard Arron Afflalo reportedly wouldn't mind being moved to a playoff team for next season.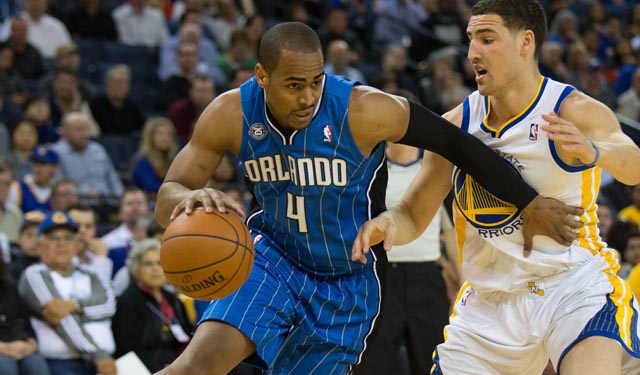 More postseason coverage: Playoff schedule, results | Latest news, notes
Arron Afflalo only last one season in Denver with the Nuggets after re-signing there for five years, $38 million before he was traded to the Orlando Magic in the Dwight Howard four-team trade. He's spent two seasons in Orlando and missed the playoffs in both campaigns. Afflalo will turn 29 years old right before the 2014-15 season starts and he probably doesn't want to spend many more seasons not getting into the playoffs.
According to Brian Schmitz of the Orlando Sentinel, Afflalo "wouldn't mind being moved to a playoffs team" because he doesn't really have much time left in his career with him at the top of his game. After nearly being an All-Star with the Magic last season, Afflalo would like to make sure he's getting some postseason action on the court.
Orlando's classy leading scorer wouldn't mind being moved to a playoff team. The clock is ticking loudly on his career as he'll turn 29 in October.

The Magic can select a point guard at No. 4 this month, perhaps a signal that Victor Oladipo would move to Arron's position full-time. Afflalo could be in play at the June 26 draft. Chicago, Charlotte, Phoenix and Oklahoma City could use two-guards and have multiple first-round picks. The Magic could deal him at the February trade deadline, the way they did J.J. Redick, in 2013.

Afflalo is one of the NBA's best bargains, scheduled to earn $7.5 million next season.
Afflalo averaged a career-high 18.6 points last season while making 42.7 percent of his 3-pointers. He was the Magic's leading scorer. But he hasn't played in the postseason since 2012 when he was with the Nuggets and while the Magic could certainly improve enough to challenge for the 8-seed or higher in the weak Eastern Conference, it would be more of a guarantee to join a team already in the playoff hunt.
Afflalo has two years left on his contract, paying him $7.5 million each season. That's a steal for his kind of production. The 2015-16 salary is a player option though. Assuming he's healthy and still productive this season, it would make sense for him to not opt in for 2015-16 and try to get a bigger payday a year earlier than scheduled.
Deciding who to watch on League Pass can be difficult, but these rankings promise to help

Veteran forward signed a one-year deal with the Knicks in offseason

Knicks forward had his truck stolen out of his driveway
The Celtics will send No. 34 to the rafters in Boston when they take on his old rival

It's never too early to look at June's NBA Draft

Cousins uses some colorful language to get his point across