Report: As expected, Carmelo Anthony has opted out
Knicks free agent will test the waters, which seem to be pretty warm when it comes to the Chicago Bulls.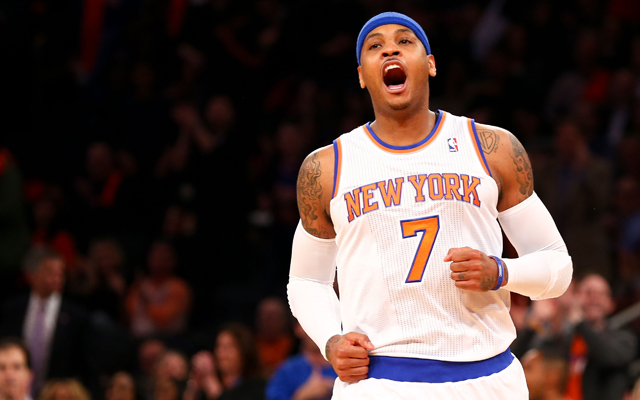 More Offseason Analysis: Coaching changes, news | Free Agency | Draft | Rumors
Update 4:25 p.m.: The Wall Street Journal reports that Anthony already notified the Knicks by formal letter Friday that he has exercised the opt out. 
Can confirm that Carmelo will opt out. Actually submitted his formal ETO letter on Friday stating his intentions to do so, per a source.

— Chris Herring (@HerringWSJ) June 22, 2014
---
So back in October, Carmelo Anthony said he'd opt out of the final year of his deal with the Knicks and the $23.3 million he's under contract for, to test free agency. That wasn't a report, or rumor, and it wasn't according to a source. Anthony literally said it. But a lot can happen over a season, so there was always a question of whether it would happen or not. Maybe Phil Jackson could convince him to opt in and give the team a year. 
Ten days ago, word surfaced Anthony still intended to opt out. 
And Sunday, word surfaced Anthony will inform the Knicks on Monday of that same decision: He's going to become a free agent. 
A person close to Carmelo Anthony confirms that Melo, as expected, will inform Knicks on Monday that he's opting out. "One hundred percent."

— Frank Isola (@FisolaNYDN) June 22, 2014
Yahoo Sports reported the same.
But the options for Anthony are greatly changed from October. At the time, the Knicks were coming off a 54-28 season, could offer Anthony the most money and looked like a contender. Eight months later, not only is there a lot of talk that Anthony could be unhappy with the Knicks and be willing to leave money on the table, but Ken Berger of CBSSports.com reports the Bulls are lining up the pieces to make a run.
It would take a major shakeup -- amnestying or trading Carlos Boozer and trading Taj Gibson -- but the Bulls are well-positioned to make room for a much bigger catch: Knicks free agent Carmelo Anthony. With the Rockets needing to dump Omer Asik and Jeremy Lin to make room for Anthony, the Bulls could have the inside track if the Knicks' superstar decides he wants to move on. If the Bulls feel good about their chances of landing Anthony, they could move both of their picks to create room -- or dangle one in sign-and-trade talks with New York, which badly needs future assets. In addition to the 16th and 19th pick in this draft, the Bulls have Sacramento's 1-10 protected pick next year and the right to swap with Cleveland.
via Draft Buzz: Bulls seeking help for Derrick Rose- CBSSports.com.
Meanwhile, the Chicago Sun-Times reports Bulls coach Tom Thibodeau has been calling his former coaches to ask about Anthony. 
The Bulls' push to acquire New York Knicks star Carmelo Anthony is heating up heading into NBA draft week, and perhaps no one wants his services more than coach Tom Thibodeau.

According to one of Anthony's former coaches, Thibodeau has reached out to him and to several other coaches who have worked with Anthony with numerous calls.

"'I even told Tom that there may be days he will want to blow his own head off when it comes to Melo's defense, but he keeps saying he knows he can make it work," the coach said. "'It's not that Carmelo can't play defense, it's just how often. And he knows every trick in the book on getting around that."
via Bulls' Thibodeau making push to bring Carmelo into fold - Chicago Sun-Times.
Houston, Miami, and Chicago are thought to be the front-runners for Anthony. Phil Jackson reportedly asked Anthony to opt in for next season, but has also hedged on what the importance of Anthony re-signing with the Knicks is. 
So as the Decision 2.0 with LeBron James waits to come to life, we know the MeloDrama is back with a bang. If he becomes a free agent, Anthony can begin to meet with clubs July 1. 
The Warriors used a huge third quarter to come back from a 23-point deficit to get the win

Three takeaways from Golden State's 24-point rally past the Sixers

Okafor has played only 25 minutes this season
Capela's shoe slipped off, and was sitting near the free throw line

The Magic will instead play in the Las Vegas Summer League

Ball walked away from an altercation between the Lakers and Suns on Friday night