Report: As Suns' Bledsoe talks stall, Bucks, Rockets, Kings have interest
Teams looking at Eric Bledsoe but the restricted free agent can't generate the offer he wants due to the Suns' ability to match.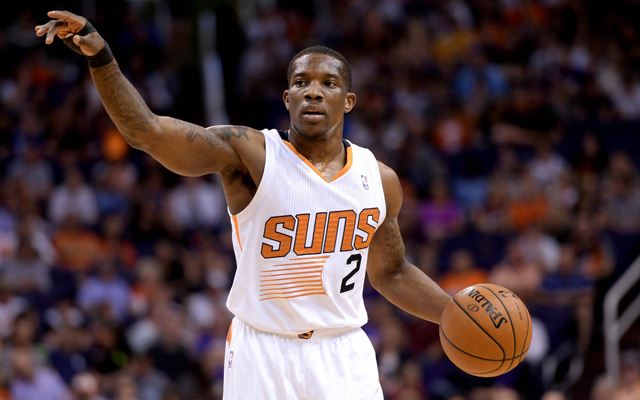 More Offseason Analysis: Updating Free Agency news | Free Agent tracker
ESPN reports that the Suns and restricted free agent point guard Eric Bledsoe are still 'far apart' on a deal with the Suns wanting to pay the talented explosive guard far less than his asking. Due to Bledsoe being a restricted free agent, no team has been willing to make a major push for him given that the Suns will likely match. 
But there are suitors. From ESPN: 
But the Suns' completion of a sign-and-trade deal for Isaiah Thomas, along with the drafting of point guard Tyler Ennis, has potential suitors believing that Phoenix may move on from Bledsoe, league sources said.

The Milwaukee Bucks have been mentioned as a team with interest in Bledsoe, and Sacramento and Houston, which recently traded away Jeremy Lin, could be in the market for a point guard.
via Eric Bledsoe, Suns remain far apart in contract negotiations - ESPN.
ESPN reports the financial gap is considerable. 
Sources: Suns offered Eric Bledsoe 4-year, $48 million contract. Bledsoe wants max of 5 years, $80 million. Sides far apart

— Chris Broussard (@Chris_Broussard) July 17, 2014
The Bucks would be making a big investment to try and move up now, but would Bledsoe want to play for a rebuilding team... in Milwaukee? Even with a talented roster that underperformed last year and the No. 2 overall pick in Jabari Parker under new coach Jason Kidd, that situation's not very inspiring. 
Sacramento is another small market, but at least it has considerable talent. And Bledsoe would feel right at home next to fellow former Wildcat DeMarcus Cousins, and fill a major need for them at point guard after the departure of Isaiah Thomas... to Phoenix. 
The Rockets are the best option, with the chance to fill a major need in a bigger market for a contending team. Bledsoe would give them a dogged defender in the backcourt who is a significant offensive upgrade from Patrick Beverley and another athlete to run the floor with James Harden and Dwight Howard. That's a great fit, but any offer that the Rockets would put on the table would almost assuredly be matched by the Suns. 
And that's the issue. There's no way for Bledsoe to generate leverage because of the restricted nature of his free agency. No team wants to tie up space and time just waiting for Phoenix to match the offer. You'd have to bowl over Phoenix with a sign-and-trade offer, something that most teams aren't equipped to do. The Bucks have talent, but they can't afford to send it out to get Bledsoe, even as bad as they were last year; it would rake the cupboard dry except for Parker. 
So Bledsoe's likely looking at a discount which can set up bad blood between the team and the player. The best situation is for a team to test Phoenix's resolve with a big offer, the Suns match, and then Bledsoe stays in a good situation for the money he wants. That's the best scenario... for Bledsoe. The Suns meanwhile seem pretty comfortable with the idea of getting their second-best player back at a discount. 
Restricted free agency remains a damaging part of the CBA for players. 
Kyle O'Quinn has reportedly drawn interest from the Warriors

LeBron James will try to finish off his 30,000 point milestone tonight when the Cavaliers play...

The old rivalry of Celtics-Lakers is renewed once again, but the stakes are still pretty l...
David Blatt thinks Cleveland players aren't doing enough for Tyronn Lue and the rest of the...

SportsLine's Mike McClure, a DFS pro with more than $1M in winnings, gives optimal lineup...

Lillard has a private meeting with owner Paul Allen over the future direction of the organ...