Report: Australia's Joe Ingles is a lock to land in the NBA next season
Australian forward Joe Ingles is a reported lock to join the NBA next season after his stellar play in the FIBA World Cup.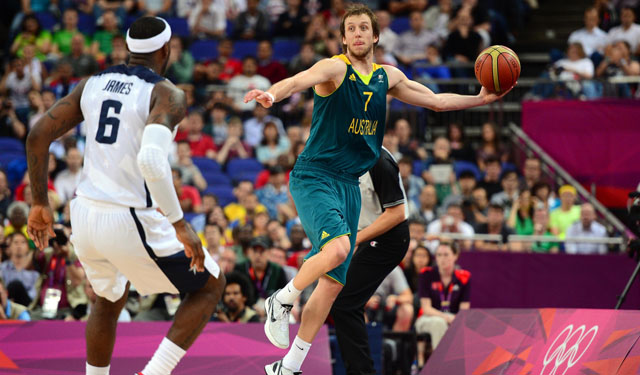 The FIBA World Cup happening in Spain could be leading to certain international players getting importand looks from executives and coaches all over the world. For the few players who have a chance of making the jump to the NBA for next season, a solid two weeks of play could be the difference between joining the top basketball league in the world and still working toward making that a reality. Australian forward Joe Ingles is reportedly finding his way into the NBA with his play in the tournament.
Marc Stein of ESPN.com is reporting Ingles "has emerged as a virtual lock" to find his way to an NBA team for the 2014-15 season and it could be on a guaranteed deal. He's done a great job so far of leading Australia in the first three games of group competition and is builidng upon his reputation as a forward who has a place in the NBA.
Australian forward Joe Ingles didn't just spark his team Tuesday to a valuable Group D win over Lithuania in the Canary Islands.

He also played himself closer to his NBA dream.

According to NBA front-office sources, Ingles has emerged as a virtual lock to land in the league this coming season -- likely on a guaranteed deal -- on the strength of his strong play here at the 2014 FIBA Basketball World Cup.
Ingles went undrafted back in 2009 and immediately signed to play in the ACB Spanish League for Granada. During the 2010-11 season, he was transferred from Granada to Barcelona, where he spent the next two-plus seasons. In 2013-14, he moved to the Israeli League and played for Maccabi Tel Aviv. Over the last two seasons, Ingles has shown a much more consistent shot from 3-point range and has solid rebounding and assists number to go with it.
He was on the Golden State Warriors' Las Vegas Summer League in both 2009 and 2010. In World Cup action this week, Ingles has led Australia to a 2-1 record so far. His 18 points on Tuesday helped pull off an upset victory over Lithuania. They're a virtual lock to move on to the elimination rounds with two games left against Mexico (Wednesday) and Angola (Thursday). A win in either of those games would give them a pass to the next round. In three games, he's averaged 15.7 points, 3.0 assists, and 1.7 rebounds while making 70.4 percent of his shots.
The Pistons put out a long list of details regarding their new uniforms

The Pacers traded the forward to OKC for two former lottery picks who have yet to reach their...

Gilbert said what was expected, but didn't necessarily sound all that confident
Altman addressed the media about Irving during his introductory news conference

Toronto's center has an uncertain future; can we still talk about this 25-year-old's poten...

Oakley was vague with his response on when he'd attend another Knicks home game