Report: Barclays Center only generated a third of expected profit in first year
The Nets' new fancy home looks pretty and generated a huge amount of buzz. But it also failed to generate the expected revenue, and the shortfall was considerable.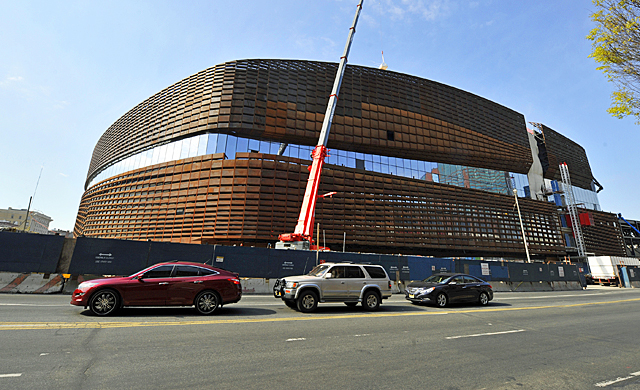 The Brooklyn Nets have been a big deal since they moved into the city a year ago. New owner Mikhail Prokhorov and his supporting partners spared no expense in promoting the team last year. My favorite moment of this was last season when the Nets broadcast announced that their brodcast was brought to you by... the Brooklyn Nets. They were their own sponsors. 
The new Barclays Arena opened with then-minority-owner Jay-Z and hosted a series of extravagant events and concerts last year. The development group spent billions on its construction and internal fancy specs. It was a marvel for anyone that went to the arena. 
It just wasn't profitable. 
From NetsDaily: 
The Wall Street Journal, citing public documents released by Bruce Ratner's parent firm, reports that the profit generated by Barclays Center is a third of what the arena's operators projected before it was built.

Eliot Brown of the Journal writes that the arena will produce about $26 million in operating income in its first year, 2/3rds of the $76 million projected ... and less than what the arena has to pay out to its bondholders.

Forest City Enterprises which owns 55 percent of the arena operating company attributes the shortfall to the opening costs, "to make a big splash in the first year, investing heavily in marketing, customer service and securing top acts," writes Brown. Indeed, the arena has been the nation's top grossing venue for concerts and family shows through the first three quarters of year one ... and second in the world.

"We can easily reduce our expenses by 15%, if not higher," Brett Yormark, CEO of the Barclays Center, told WSJ, adding the arena's first 12 months have "exceeded my expectations."
via Barclays Center not as profitable as hoped, will cut expenses - NetsDaily.
So this seemes like nothing more than a temporary blip. But it's still crazy that such a profitable enterprise on the surface has only done a third of the expected profts. Especially considering the outrage over the construction of the building in Brooklyn. Forbes estimated thet Nets' worth last year at $530 million based mostly on the amount of debt associated with the move and that the team carried over from its previous owners in Jersey. 
It's just amazing that this thing could be such a cash cow and fall so dramatically short based on expenses. That's how much money they spent on this whole endeavor. Stunning. Remember this when the league is locked out in a few years. 
Kevin Durant was once again back in Oklahoma City

Gregg Popovich has never seen an injury lead to the issues that Kawhi Leonard has been fac...

Kobe Bryant, of course, had his 81-point game against Rose and the Raptors back in 2006
Keep it right here for all your Wednesday NBA scores, updates and highlights

A season-ending injury kept the Celtics guard's time at Duke very brief before he jumped to...

Here's a look at what has brought fans the most joy so far this season