Report: Ben Gordon involved in 'disrespectful' altercation with coach
Ben Gordon reportedly disrespected his coach, trying to 'humble' him. So why didn't the Bobcats punish him? Welcome to trade season, y'all.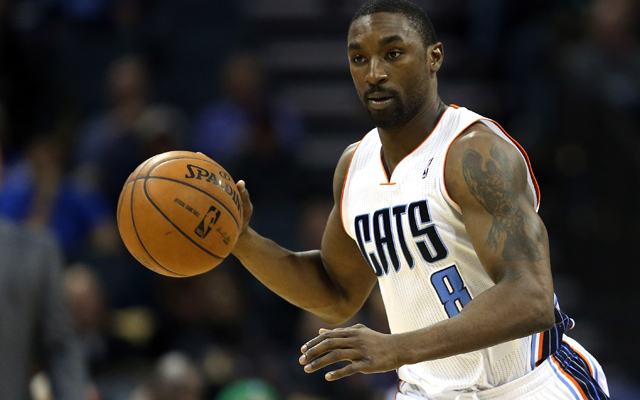 Will Ben Gordon be traded?
(Getty Images)
Yahoo Sports reports Bobcats guard Ben Gordon had an altercation with coach Mike Dunlap in front of the team this week but that the Bobcats have not punished him in order to protect his trade value. 
After a bout of disruptive behavior from Ben Gordon targeted at Charlotte Bobcats coach Mike Dunlap, the franchise's desire to trade the guard has deepened, league sources told Yahoo! Sports.

Ben Gordon is averaging 12.6 points this season. APAs Dunlap led the Bobcats in a morning shootaround on Monday before a victory over the Celtics, Gordon refused Dunlaps request to stop bouncing a ball as the coach spoke, sources said.

Before long, Gordon began baiting Dunlap, telling him that he needed to "humble himself," sources said. Gordan refused to give the ball to Dunlap, and eventually tossed it toward a ball rack, sources said.

Bobcats general manager Rod Higgins was in the practice session and ultimately intervened, sources said.

"Beyond disrespectful," was how one league source described the scene.
via Sources: Bobcats more determined to trade Ben Gordon after incident with coach - Yahoo! Sports.
So that's not cool. Gordon, of course, is a seasoned veteran on a rebuilding team of young pups, having found himself there after an offseason trade. Dunlap has been said to be notoriously difficult in terms of practices. He demands a high physical price on his players, something that veterans in the NBA, shall we say, hate with a passion. 
The fact that the Bobcats are letting it go to maintain trade value is indicative of where they're at. Is it a good way of handling business? No. Absolutely not. Is it what you do when you're the Bobcats and you need to maximize on every move you make with little room for error? Yup. 
This all could be less serious than people around the situation indicate, at least to the respective parties involved, but it sets a poor tone for the locker room. Sadly, all that effort to not punish him is now useless as this has been reported, and it will be used as leverage. 
Gordon has pretty good value, but we'll see if the Cats can find a suitor for him.
Warriors' forward doesn't understand the reasoning behind the all-too-common double technical...

Hardaway Jr. gave a 'safe' call like he was an umpire in baseball

Barnes hits the trey with less than a second left to lift Mavericks to dramatic 95-94 vict...
Kevin Durant was once again back in Oklahoma City

Gregg Popovich has never seen an injury lead to the issues that Kawhi Leonard has been fac...

Kobe Bryant, of course, had his 81-point game against Rose and the Raptors back in 2006