Report: Blake Griffin healing fractured back
Clippers forward to miss Team USA not for rest but because of small, minor fracture in his back.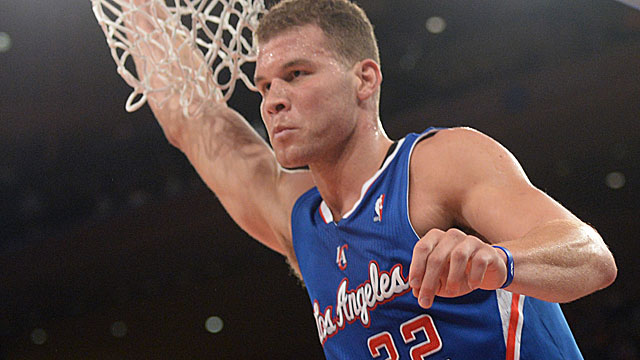 Offseason: Free Agency | Latest from Ken Berger | Rumors
ESPN reports that Los Angeles Clippers forward Blake Griffin's real reason for pulling out of Team USA this summer was not rest as initially described, but on doctor's orders to allow a small, minor stress fracture in his back to heal. 
Griffin is expected to make a full recovery from the injury, which sources say was suffered during the playoffs. However, doctors advised him to sit out of international competition this summer for precautionary reasons.

Griffin has continued to workout this summer in Los Angeles with teammate DeAndre Jordan and former Laker and Clipper Sasha Vujacic.
via Blake Griffin of Los Angeles Clippers has small fracture in his back - ESPN Los Angeles.
I don't know about you, but "small fracture in his back" is not something that sounds minor. Additionally, you have to think Griffin would have rethought doing backflips into the Meditteranean Sea had he been aware of the fracture. 
Griffin suffered a fractured patella before his rookie season and has endured various moderate injuries in the past two playoffs. He takes a huge beating on account of his play style, something he may have to adjust if these injuries keep piling up. Hopefully this won't cause him any problems beyond his exit from Team USA. The Clippers certainly have to hope so. He's their future and cemented himself as the best player on their team last season. 
Wade opted in to his $24 million player option earlier this summer

Barkley spoke to the NFL Today crew about the response the president received in his home...

The restricted free agent has a deal in place that will keep him with the Bulls after a st...
James' support continues his trend of social activism on social media

The newly-acquired All-Star thinks the addition of Anthony boosts the Thunder in the NBA's...

The Knicks were asking for the house in discussions for Carmelo Anthony