Report: Blazers discuss trade with LaMarcus Aldridge representatives
The Blazers reportedly met with representatives from LaMarcus Aldridge's 'camp' to discuss possible trades.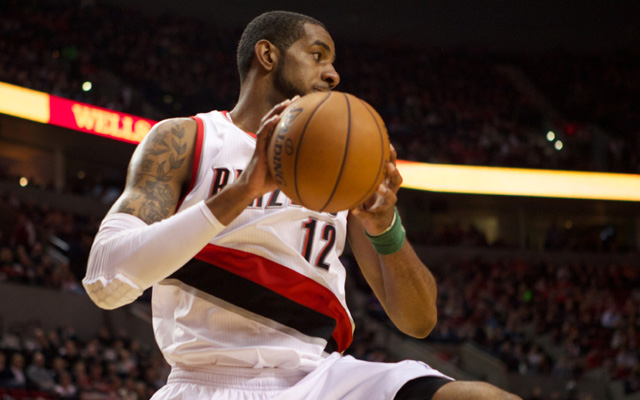 If we're following the trend of information coming out of Portland, here's the deal. It seems Trail Blazers big man LaMarcus Aldridge wants out, but doesn't want to be a player who demands a trade, so instead he's trying to nudge the organization in that direction as it rebuilds without outright making it into a public mess. 
First, the Portland Tribune reported Aldridge went to management to tell them he would "like to be moved." Then Aldridge moved fast to shoot down any suggestion that he demanded a trade. The wording here is key. Aldridge is only saying he didn't demand a trade. 
Then more reports surfaced that Aldridge wants out. 
And then this week, CSN Northwest reported the Blazers held a meeting with representatives from Aldrdge's camp in Las Vegas during NBA Summer League:
The camp for Portland Trail Blazers All-Star forward LaMarcus Aldridge arranged a meeting with general manger Neil Olshey in a Las Vegas hotel lobby on Sunday to suggest several trade scenarios, a league source informed CSNNW.com.

According to the source, who spoke on the condition of anonymity due to the sensitive nature of the situation, described the meeting as being productive with both sides focused on doing what's best for both parties.

...

When Aldridge is a year removed from becoming a free agent, his camp will have more leverage than the current time.

Aldridge told CSNNW.com that he did not request a trade and we confirmed that as being fact. However, he's not opposed to one and he has no issue with returning if that be the case, a source close to All-Star revealed to CSNNW.com.
So you see the minor difference there, right? One is a "trade demand," which says, "I want out." The other is, "I'm just saying, if you did move me, I wouldn't mind it." That allows him to deny the trade demand and keep face while still pushing to get out. 
Problem is, the Blazers aren't up against that contract year deadline, so they want a superstar for him. They have the luxury of time to ask for the moon right now, because they have all the leverage. Aldridge's contract expires in the summer of 2015, so this time next year will spark Aldridge's version of the Dwightmare/Decision/whatever, if he still wants out. If the team wants to keep him, they have to make a run this year, basically, and set up negotiations for a long-term extension. 
Aldridge has been linked to trade talks with the Bulls and Cavaliers according to reports, but those teams aren't offering up their superstars for Aldridge, despite his being arguably the best power forward in the NBA. The only thing that's certain when we look over all this stuff is there's a definite trend toward Aldridge wanting out, but not enough to sacrifice his good will with the city.
It's a delicate line, but one we've seen before inevitably leads to uglier breakups. We'll see if both sides can pull up out of the tailspin or if the Blazers decide to pull the trigger early.
How the first two months of the season go for Portland could determine a lot about LaMarcus Aldridge's future in Portland. 
Westbrook claims he doesn't remember calling Jackson's celebration 'bull----' back in 2016

Rose is reportedly sick of being injured, and it's 'taking a toll on him mentally'

SportsLine's proven computer model simulated Friday's Cavs-Hornets game 10,000 times
SportsLine's Mike McClure, a DFS pro with more than $1M in winnings, gives optimal lineup...

SportsLine's advanced computer model simulated Friday's Bulls-Warriors game 10,000 times

Okafor has played just 25 minutes this season for the 76ers