Report: Blazers owner sells mansion because he hates sound of ocean
Trail Blazers owner reportedly sells mansion because the noise of the ocean kept him up... at his beach house.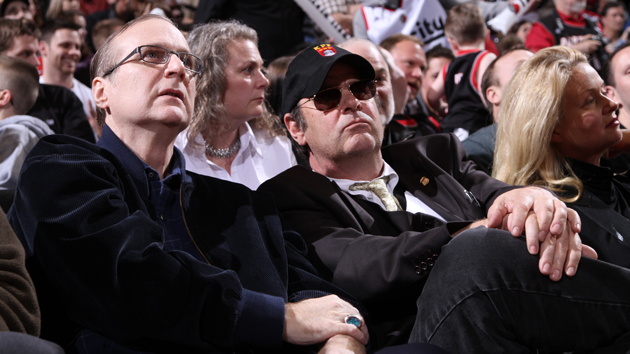 More NBA: Power Rankings | Expert Picks | Latest news, notes
Here's a fun one. I love Trail Blazers owner Paul Allen super rich stories. He had a "Superyacht" named "The Octopus" that he once got nailed with parking tickets for. 
Now, the New York Post's gossip section "Page Six" reports that Allen has sold his Malibu mansion which he bought for $25 million (to CBS President and CEO Les Moonves) because "hated the sound of the ocean." 
Page Six has exclusively learned Moonves has bought Microsoft co-founder Paul Allen's home on Malibu's prestigious Carbon Beach for $28 million.

Allen bought the gorgeous, white-walled and glass modern oceanfront house for $25 million in 2010.

But a source said Allen "hated the sound of the ocean" because it kept him awake at night and spent very little time there. Carbon is dubbed "Billionaires Beach" because Oracle CEO Larry Ellison owns nearly two dozen properties there, and it's also home to ­entertainment mogul David Geffen, DreamWorks' Jeffrey Katzenberg and moguls Eli Broad and Haim Saban.
via Les Moonves buys Paul Allen's mansion on 'Billionaires Beach' | Page Six.
So the funny things about this, in order:
1. He sold a house he bought for $25 million because he hated the sound of the ocean. Who hates the sound of the ocean? Noise machines literally replicate it. Also, why would you buy a beach house for $25 million if you don't like the sound of the ocean? Doesn't the sound of the ocean seem like a pretty necessary part of a beach house?
2. He didn't spend much time there? So he spent $25 million on a house and just kind of had it, like that thing you saw on TV that you bought at Bed Bath and Beyond? How do you spend that much money and just let the house hang out there?
3. Was it the dolphins? It was the dolphins, wasn't it?
A season-ending injury kept the Celtics guard's time at Duke very brief before he jumped to...

Here's a look at what has brought fans the most joy so far this season

Kevin Mackey says he gave Manute Bol a birthday because they didn't know how old he was
Hosts Bill Reiter and Reid Forgrave are joined by America's Lakers Podcast co-host Aaron L...

Meanwhile, we learned the hard way just how many supporters Lonzo Ball still has out there

The fifth-year forward has continued his growth on both sides of the floor