Report: Blazers to offer max extension to LaMarcus Aldridge
The Portland Trail Blazers are reportedly looking to offer a max contract extension to LaMarcus Aldridge.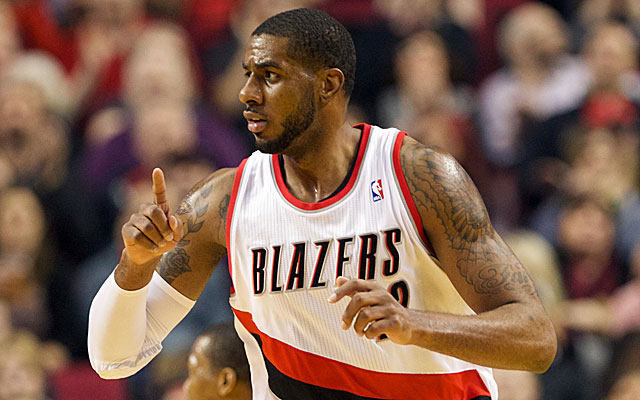 More Offseason Analysis: Coaching changes, news | Free Agency | Draft
The Portland Trail Blazers were facing rumors of LaMarcus Aldridge wanting a new franchise to play for a year ago. After a 5-seed in the West and an appearance in the second round of the playoffs, it now seems crazy to think Aldridge would want to go anywhere else. The Blazers are reportedly prepared to offer up some big money to their All-NBA power forward this summer when they present him several max contract options.
Adrian Wojnarowski of Yahoo Sports is reporting the Blazers will meet with Aldridge soon and present the various ways in which they can offer him a max deal and keep him on the team for a minimum of three more years and possibly upwards of five years.
Portland Trail Blazers owner Paul Allen and general manager Neil Olshey formally presented the representatives of three-time All-Star forward LaMarcus Aldridge a maximum contract extension in Los Angeles last week, league sources told Yahoo Sports.

Allen and Olshey met with Wasserman Media Group agents Thad Foucher and Arn Tellem to lay out the max contract extension scenarios available to Aldridge and reaffirm the franchise's desire to secure him for the long term, league sources said.
As Wojnarowski lays out in his report, the Blazers can offer a three-year max extension worth $55.5 million this summer. Aldridge has one more year on his contract at $16.1 million for the 2014-15 season and then he'll become an unrestricted free agent next summer. If he declines the option and becomes a free agent in 2015, Aldridge can sign a five-year, $108 million deal with the Blazers to remain with the franchise.
Last year was Aldridge's best season of his career. In 69 games, Aldridge averaged 23.2 points and 11.1 rebounds, both career highs. He led the Blazers to a 54-win season before helping them knock the Houston Rockets out of the playoffs in the first round.
The investigation detailed a hostile workplace environment

Cousins suffered a torn Achilles tendon on Jan. 26, and will miss the rest of the season

Ingram has become one of the team's go-to players with Lonzo Ball sidelined with an injury
Giannis skipped EuroBasket last summer, and has missed four games this season with knee so...

Some of the best and worst from the league as we head into the home stretch of the season

Cuban acknowledged that tanking is 'brutal' and that he will no longer do that after this...