Report: Bobcats, Bulls, Clippers, Grizzlies among suitors for Jamison
Antawn Jamison has drawn interest from four teams in free agency and says he's learned from his experience with the Lakers.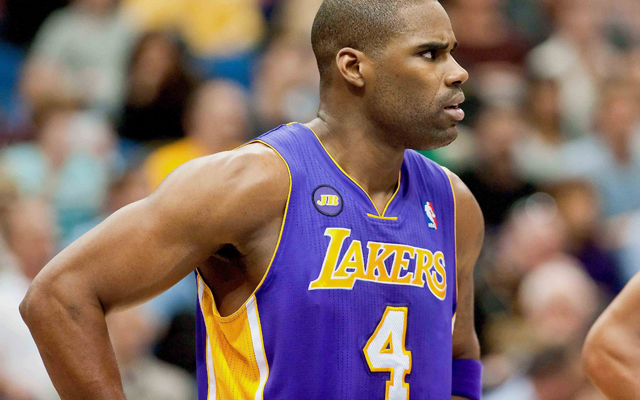 The Sporting News reports four teams, the Bulls, Clippers, Grizzlies and Bobcats have interest in signing veteran forward Antawn Jamison. Jamison told the outlet he learned something from jumping in too fast with the Lakers last season: 
Jamison said he will definitely tread more cautiously through this latest decision on his NBA future. As he did when he chose to sign a one-year veteran's minimum deal with the Lakers last summer, Jamison has suitors. The Bulls, Clippers, Grizzlies and Bobcats have all showed interest in the 37-year-old free agent, who believes he has a couple more years left of competing at a high level.

"I think last year, getting the opportunity to play for the Lakers and their organization, I really jumped into it," Jamison said. "Didn't really view my options, but this year I really want to make sure I'm going to the right situation, where I have a good rapport with the coaching staff and also with management I'm able to communicate and get an understanding of what they want from me.

"Because it looks good on paper doesn't mean it's the perfect fit, so I really want to make sure the next team I go to, whether it's a one- or two-year deal, that it's a really good fit and we have a understanding with each other as well. That's why you really have to take your time and key into what's best not just for me but for my family as well."
via Post-Lakers, Antawn Jamison approaching free agency with caution - NBA - Sporting News.
Jamison averaged nine points and five rebounds in 76 contests with the snakebitten Lakers last season. He shot 46 percent from the field and had a near-league-average 15.3 PER. But his defensive issues were even more severe as he's gotten older, and he struggled to find consistent minutes under Mike D'Antoni. 
Jamison had offseason surgery on his wrist and skipped the Lakers' exit interviews. It was not a great parting. 
He'd give the Bulls a bench scorer and Tom Thibodeau's system would cover up many of his defensive warts. The Grizzlies need a stretch four after trading Darrell Arthur to make room for Ed Davis. The Clippers still need help down low, especially rebounding off the bench, and the Bobcats just need anyone who can play at any position. The Cats were hot after Jamison last year before he signed with LA. 
The inaugural BIG3 season comes to a close Sunday with the championship game

Thomas was traded to Cleveland yet some fans are taking it out on him ... and his jerseys

The Celtics dealt the No. 1 pick to Cleveland as part of the Kyrie Irving-Isaiah Thomas tr...
Thompson was rumored to have been a point of discussion with the Cavs regarding Kyrie Irvi...

What the Celtics and Cavs look like after the Eastern Conference powers swap point men

Simmons was the No. 1 pick in the 2016 NBA Draft but did not play last season