Report: Bobcats, Spurs among suitors for Evan Turner trade
Charlotte and San Antonio could make a move for the talented wing who has yet to put it all together.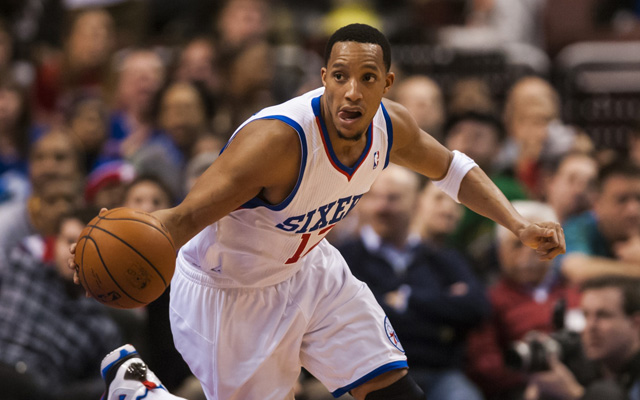 USA Today confirms a previous report that the Bobcats are looking at a trade for Evan Turner, but that the mighty San Antonio Spurs are also in the mix. 
And in the final episode of Fear Factor, we have the case of Evan Turner (another Falk client). The fourth-year swingman is having a very productive season, averaging 17.8 points, 6.0 rebounds and 3.8 assists per game. But the price for that production in his forthcoming restricted free agency (if he's extended the qualifying offer) is likely too rich for the 76ers' blood, meaning they'd rather net a first-round draft pick in return for him and continue their rebuilding efforts with a more salary-cap friendly situation. One rival executive mentioned the San Antonio Spurs and Charlotte Bobcats as possible destinations via trade, though both teams could also wait until the offseason to see if they could simply sign him then.
via NBA A to Z: As trade deadline nears, who sells, buys?.
The Spurs were mentioned by Ken Berger of CBSSports.com as a team that could surprise people by being buyers at the dealine. San Antonio almost always opts to stand pat at the deadline, not wanting to upset the balance of power. The big question is whether the Spurs want to make a move towards the future or make a move to try and help their last few gasps at a title. 
Would Turner move that forward? And what would the Spurs be willing to give up? Their pick will be at the very end of the draft, again. They always use it well, but they also always seem to find ways to pick up extra guys. They can feel pretty good about their odds of buying or trading a low-value asset for a second-rounder on draft night. Would that be enough for Turner? The question is what other teams will offer to drive the price up. 
For what it's worth, Turner's attitude seems to fit right in with what San Antonio wants and his ability on both ends would be maximized by San Antonio's system.
Charlotte would be an incredible fit, giving them another player besides Kemba Walker to create off the dribble and someone they can use at point forward. For bigger lineups. A Sessions-Turner-MKG-McBob-Jefferson lineup has a lot of potential. 
Turner is averaging 18.0 points, 6.2 rebounds and 3.8 assists while shooting 43 percent from the field and 29 percent from three for the tankfest Sixers. 
We've got all the scores, top plays and news from Saturday's NBA games

Gentry was complimentary of Harden following the Pelicans' loss to the Rockets on Saturday

Davis was arrested last month and charged with drug possession and distribution
Dudley and Chriss were the main culprits in an altercation in Utah on Thursday

Kanter also suggested the Knicks should develop guys in the G League, not the NBA

SportsLine's Mike McClure, a DFS pro with more than $1M in winnings, gives optimal lineup...