Report: Bobcats talks to bring in Bucks' Butler, Neal crumble
The Charlotte Bobcats reportedly had good trade talks to bring in Caron Butler and Gary Neal from the Milwaukee Bucks, but those talks crumbled.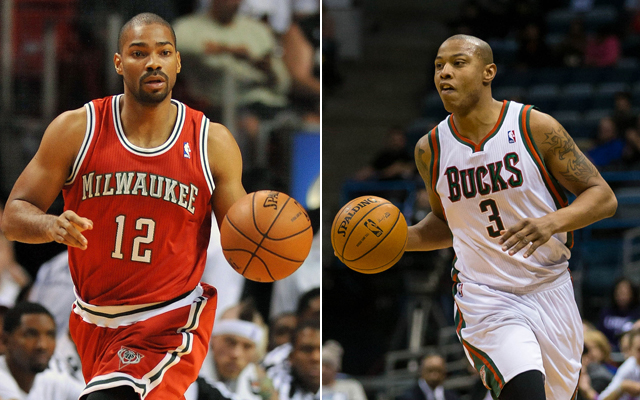 The Milwaukee Bucks have been looking to deal guard Gary Neal for a few weeks, even though they just signed him to a deal this offseason for two-year, $6.5 million. After having reported a run-in with center Larry Sanders, in which he told Sanders to start earning his money, Neal's name immediately popped up in rumors and reports to be moved. He almost had his wish of getting on a playoff team. 
Adrian Wojnarowski of Yahoo Sports is reporting that the Charlotte Bobcats recently had talks that gained traction to acquire Neal and teammate Caron Butler. However, those talks have crumbled the past few days and it looks like a trade won't happen as of right now. 
Charlotte had traction on deal to bring it Milwaukee's Caron Butler and Gary Neal, but talks crumbled in recent days, league sources tell Y!

— Adrian Wojnarowski (@WojYahooNBA) February 18, 2014
With the trade deadline on Thursday, the Bucks won't have many more opportunities to move Neal or Butler's expiring contract. The Bobcats have shooting guard Ben Gordon to offer up to make a trade easy to complete, but Gordon's expiring deal means the Bucks would only be saving a little bit of money for next season while paying more this season if the deal goes through. It's possible an exchange of draft picks (likely second rounders) would be the reason any deal might fall apart.
Gordon's $13.2 million price tag would add to the salary of the worst record in the NBA. Butler and Neal's contract total up roughly $11.2 million this season and Neal is owed $3.25 million next season. Butler is averaging 10.5 points and 4.6 rebounds in 23.8 minutes this season but he's played in only 32 of 52 games and is shooting 38.2 percent from the field. Neal is averaging 10.2 points on 38.9 percent from the field in 20.2 minutes. He's played in 29 games this season.
Can the former MVP be a healthy contributor to the reigning East champs amid organizational...

Lillard made the comments in regards to the Kyrie Irving situation

Rose reportedly agreed to a one-year deal with the Cavs
Fredette starred for the Shanghai Sharks last season

The free-agent point guard spent last season with the New York Knicks

Stevens was trying to take Hayward and his wife to their hotel