Report: Brandon Bass to opt out of Celtics contract, become free agent
Boston Celtics forward Brandon Bass has decided to opt out of his contract for the 2012-2013 season and become a free agent.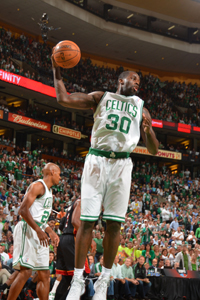 Brandon Bass wil opt out of his contract.
(Getty Images)
Brandon Bass
wants to be back with the Boston
Celtics
. He would just like to get paid first.
CSNNE.com reports
that Bass, a 6-foot-8 forward, has decided to opt out of the final year of his contract and become an unrestricted free agent this summer. Bass had a player option for the 2012-13 season worth $4.25 million.
Bass's agent tells the website that his client is looking for a multi-year deal after stepping in to a starting role after being traded to the Celtics by the Orlando Magic prior to the 2011-12 season.
However, all indications are that Bass is hoping to return to the Celtics with a multi-year deal.

"Oh absolutely," his agent Tony Dutt said when asked if Boston was his client's first choice. "Without question, he would love to go back."
The Celtics were eliminated by the Miami Heat in the Eastern Conference finals in seven games. After the Game 7 loss at AmericanAirlines Arena, Bass told reporters that he enjoyed his season in Boston and wanted to return with the team. 
WEEI.com has the quotes
.
"I do," he said when asked if he thought he would be back. "I would love to be back here. The fans here are unbelievable. For any player, this organization is the organization that you want to play for."

Bass added, "This group here was like family. For the first time in a long time it felt like family. We had fights, we had ups, we had downs but at the end of the day we fought for each other. I'm just grateful to be a part of this group."
Boston, of course, has higher priorities, namely the future of unrestricted free agents
Kevin Garnett
and
Ray Allen
. The Celtics are really at a fork in the road: they either find a way to convince the two future Hall of Famers to keep the band together or they embark on a totally new roster course, looking to acquire as much talent as possible with which to surround
Rajon Rondo
and
Paul Pierce
.
At times, especially during the Eastern Conference semifinals against the Philadelphia 76ers, Bass was a difference-making presence for the Celtics. Should the Celtics pull off the comeback tour, it would be hard for any player, especially one who saw major time with Boston's excellent core, to walk away from the possibility of another deep playoff run.
If Boston splinters, though, they will face a difficult decision: Is Bass, not a top-shelf talent, worth paying to retain as a building block or is his money better spent elsewhere? There's a value to continuity and Bass would represent that if Garnett and Allen both depart, as the rest of Boston's roster, with the exception of Rondo, Pierce,
Avery Bradley
and
Mickael Pietrus
, were merely bit players.
Bass, 27, averaged 12.5 points and 6.2 rebounds for the Celtics this season.
Warriors' forward doesn't understand the reasoning behind the all-too-common double technical...

Hardaway Jr. gave a 'safe' call like he was an umpire in baseball

Barnes hits the trey with less than a second left to lift Mavericks to dramatic 95-94 vict...
Kevin Durant was once again back in Oklahoma City

Gregg Popovich has never seen an injury lead to the issues that Kawhi Leonard has been fac...

Kobe Bryant, of course, had his 81-point game against Rose and the Raptors back in 2006