Report: Bucks are letting teams know Brandon Jennings is available
The Bucks are reportedly letting teams know that guard Brandon Jennings is available for the right price.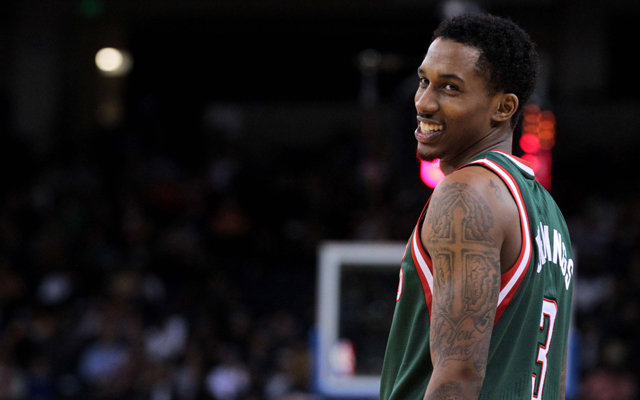 Brandon Jennings is eligible for a contract extension this summer, something the Bucks don't seem entirely keen on offering him. Especially because Jennings feels he's a max player. 
So, within that, the Bucks are likely to just wait until next summer to let the market set his value as a restricted free agent. Or ... they could trade him, which, according to the Journal Times of Racine, Wis., they're exploring. 
Bucks are letting it be known that Brandon Jennings is available for the right price.

— Gery Woelfel (@GeryWoelfel) June 27, 2013
Backcourt mate Monta Ellis has already turned down a contract offer from the Bucks, so the team could be looking at an overhaul. Jennings is an interesting young talent. He seems to have plateaued a bit since his rookie season and has never been able to figure that whole efficiency thing out. 
But he does have ability, and he has shown flashes as Milwaukee's showrunner. He averaged 17.5 points and 6.5 assists last season but shot only 39 percent from the floor. There's some good and some bad. But again, he's young and can always figure things out. 
The Bucks, though, might not be willing to wait. Jennings has some trade value, especially to a team that's willing to extend him. If the Bucks are openly shopping him, it has to mean the asking price will be high.
There's also this: A report said the Bucks prefer Ellis to Jennings and have made him a priority between them. The two didn't see much success together in the backcourt, so moving one or the other seems to be the obvious move. Clear space for a ball-dominant, shoot-first guard to operate. 
So it seems that with the Bucks shopping Jennings, they might have made their choice apparent.
Griffin can still hand out posters with the best of them

The Knicks forward is a bucket-getter in the truest sense of the term

On the TNT broadcast, even Shaq finally admitted that he likes Joel Embiid's game
The Warriors new Nike classic uniforms will be revealed Thursday

Joel Embiid doesn't want to call what the 76ers are doing a minutes restriction

The Mavs played a tribute video to the American flag prior to their opening game on Wednes...