Report: Bucks have put Ilyasova, Henson, Knight on trade market
Milwaukee's pretty much open to trading anyone at this point.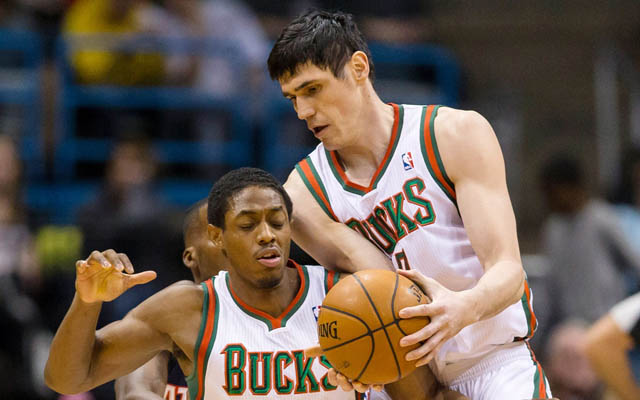 More Offseason Analysis: Coaching changes, news | Free Agency | Draft | Rumors
The Racine Journal-Times reports that Milwaukee is ready to deal ... well, just about everyone on draft night. The biggest target? Forward Ersan Ilyasova. 
Yet, behind the scenes, the Bucks' brass has been busy. They've been discussing several trade possibilities and, if you believe some NBA officials, they'll consummate at least one deal.

The most likely Buck player to be relocated to a different zip code is Ersan Ilyasova, who is coming off a disappointing season but whose stock remains fairly high.

The general consensus among some NBA personnel is that the Bucks, who are obviously in a rebuilding mode, could obtain a late-first round pick for the 27-year-old Ilyasova in what is regarded as one of the most deep and talented draft in years.
via BUCKS BEAT: It's time to play 'Let's Make a Deal' : Bucks.
Moving Ilyasova would be a great decision. He's still got value to bring back something in return, but the Bucks should also shed as much multi-year salary as they can. They signed Ilyasova to a five-year, $40 million deal in 2012 but he only has two years at a little under $16.4 million left guaranteed on his contract.
But it's not just Ilyasova who could find a new zipcode. 
Young forward John Henson, who has shown flashes of being a top-flight player, is also available and some Bucks insiders claim the team's new owners — Marc Lasry and Wes Edens — have given their blessing to possibly trading young point guard Brandon Knight, arguably the team's best player.

Both Henson and Knight undoubtedly would bring back at least a mid-first round pick, if the Bucks desired to move them.

Still another Bucks player who could be wearing a new uniform next season is beleaguered center Larry Sanders, who has been saddled by a spate of off-court issues.
Henson's a whole other deal. He shows a huge amount of talent for his age, and just hasn't gotten minutes in a crowded frontcourt. Knight showed legitimate progress last season at point guard, something you can't say for the player Detroit subbed him out for, Brandon Jennings.
With the No. 2 pick, the Bucks can pick up a player at either point guard with Dante Exum and move Knight or forward with Jabari Parker (if the Cavs don't take him), Noah Vonleh or Julius Randle (if they were to move down) and trade Ilyasova or Henson.
If the reports' accurate, Milwaukee could look very different on Friday morning than it does now. After last season, hard to say that's a bad thing.
A look at the context of the schedule and who plays who when, and how far they travel during...

Durant took on rapper Lil Dicky and actually might have lost

A report that James would once again be leaving Cleveland made the rounds on Wednesday
Known for his 'take that for data' rant, the Grizzlies coach touched on a number of important...

Wade's days with the Chicago Bulls appear to be numbered

Misty Suri will reportedly keep his job with the New Orleans Pelicans