Report: Bucks offering only the coaching position to Jason Kidd
The Jason Kidd debacle in Brooklyn is getting weirder with the Nets' coach reportedly only being offer the Milwaukee Bucks' coaching position, not personnel power.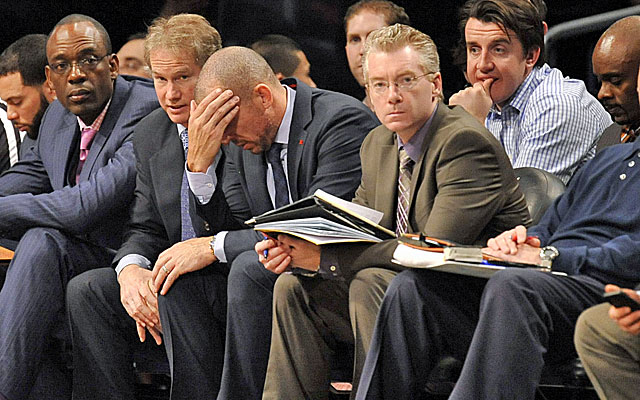 More Offseason Analysis: Coaching changes, news | Free Agency | Draft
Over the last day or so, the NBA world has been privied to a bizarre situation involving Brooklyn Nets coach Jason Kidd. After angling for more power by getting control of player personnel for the Nets and being denied, he became targeted by the Milwaukee Bucks in what is assumed to be a role of just player personnel decision-making. But that assumption is reportedly wrong.
According to Charles F. Gardner of the Milwaukee Journal Sentinel, Kidd has only been offered the coaching position. The Nets are looking for a first-round pick as compensation for releasing Kidd and the three remaining years on his contract to the Bucks, but Milwaukee is only offering second-round picks.
A league source said the Milwaukee Bucks are offering Jason Kidd the opportunity to be the franchise's head coach but are not offering a front-office position.

Kidd, who coached the Brooklyn Nets last season, interviewed with Bucks owner Marc Lasry and Wesley Edens on Friday, the source indicated. The Bucks had received permission from the Nets to talk to him, the source said.

The stalemate over Kidd's arrival in Milwaukee apparently involves compensation the Nets want to release him from the three remaining years on his contract. The source indicated the Bucks are offering second-round picks while the Nets are requesting a future first-round pick.

Bucks general manager John Hammond and assistant general manager David Morway are remaining in their positions, the source said, and no interviews have been conducted for their jobs.
Bucks co-owner Marc Lasry and Kidd have a fairly close relationship with Lasry once serving as a financial adviser to Kidd. This move would keep the front office of the Bucks intact and remove Larry Drew from coaching a young Bucks roster one year after signing a three-year deal to coach the team. Drew struggled as coach with the Bucks with a roster that simply wasn't good enough and a number of big injuries throughout the season. 
Kidd struggled at the beginning of his first coaching season last season but once center Brook Lopez went down with a foot injury, a small-ball approach to the Nets roster helped them climb up the standings. They eventually earned the sixth seed in the East and ended up with a second-round appearance before losing quickly to the Miami Heat.
The 13 finalists will find out if they have been selected on March 31

Casey, who has spent six years coaching in Canada, doesn't understand why the gun laws are...

Galin Dragiev is SportsLine's No 1. NBA expert and locked in a pick for Team LeBron vs. Team...
Boston is the only team with multiple All-Stars and multiple Rising Stars

The Mavericks rookie enters the dunk contest with a chip on his shoulder

Beal still scores a ton but he also is running Washington's offense with Wall out