Report: Bucks to buy out Caron Butler; Heat at top of suitors
Bucks forward expected to hit buyout market later this week.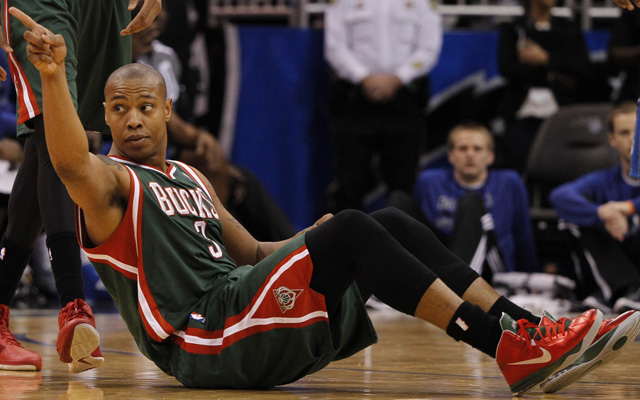 ESPN reports the Bucks are closing in on a buyout for veteran forward Caron Butler, who will join the deep ranks of the buyout free agency market or "second free agency" that includes Danny Granger, Metta World Peace and Beno Udrih and has already seen Glen Davis join the Clippers. 
Milwaukee Bucks swingman Caron Butler is scheduled to complete a contract buyout Wednesday that sets him up to become an unrestricted free agent by the end of the week, according to sources close to the talks.

Sources told ESPN.com that Wisconsin native Butler, who is earning $8 million this season on an expiring contract with his home-state Bucks, is on course to be released by Milwaukee on Wednesday and thus clear waivers Friday, well in advance of the Saturday midnight deadline by which time he must be set free to be eligible to play in the playoffs with another team.

The two-time defending champion Miami Heat, sources said, will be at the front of the line to sign Butler, who spent his first two seasons in the league with the Heat and is expected to verbally commit to a team before clearing waivers.
via Caron Butler to be bought out by Milwaukee Bucks - ESPN.
First off, let me say that I hope that if Butler signs in Miami, they also make room to bring Lamar Odom back from Spain, on account of the awesomeness that was this team. 
Butler has fallen off the cliff that aging players do, which is why the Clippers sent him to Phoenix in the trade last summer for Jared Dudley and J.J. Redick before he wound up in Mlwaukee. He's averaging 11 points per game for the woeful Bucks, shooting 39 percent from the field but 36 percent from three. There's no reason he can't provide emergency shooting and defense for a contender. San Antonio might not be another good fit, considering their need on the wings for some size. 
The Cavaliers won the much-anticipated matchup, 121-112

Two of the league's most interesting teams will meet on national TV on Friday night

A mic on the court evidently picked up what the Cavs superstar had to say to the Lakers ro...
The idea was to bring Bell along slowly, but he's making it harder and harder to keep him on...

Donovan Mitchell kept the top spot in the rankings, but there was plenty of shuffling below...

Stephen Oh is 23-7 picking Rockets and Spurs games and just locked in a play for Friday