Report: Bucks to move Giannis Antetokounmpo into starting lineup
The Bucks are set to move rookie phenom Giannis Antetokounmpo in the starting five.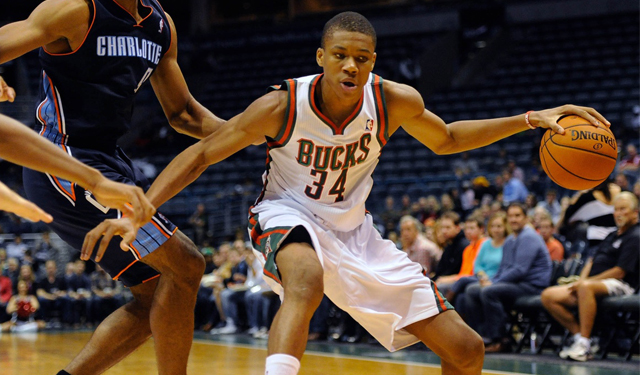 For the Bucks, their season is pretty much done. They didn't appear to be set on tanking this season, instead making moves with an eye towards at least being average. 
Instead, because of injuries and other factors, they're the worst team in the East. Which is saying something. 
So they're doing the wise thing and turning their season over with an eye towards the future.
According to Yahoo Sports, the Bucks will move rookie freak phenom Giannis Antetokounmpo into their starting lineup. 
Antetokounmpo has played in 19 of the Bucks' 24 games without any starts. He's seeing 18.2 minutes a game while playing behind Caron Butler and Khris Middleton. But again, with the team at 5-19, there's really nothing to play for this season other than the future. So time to get Antetokounmpo some minutes and see how he develops. 
Plus, the Bucks need to find out what position he plays. They have him listed as a shooting guard, but at 6-foot-9 and still growing, he probably makes more sense as a small forward, or maybe even a stretch 4. 
The Bucks want to see what they have. But here's the question: If, or I shoukd say, when he struggles, will they let him play through the growing pains, or will they pull the plug? 
Rap mogul supports the vision the outspoken father has for his brand and sons

Deciding who to watch on League Pass can be difficult, but these rankings promise to help

Veteran forward signed a one-year deal with the Knicks in offseason
Knicks forward had his truck stolen out of his driveway

The Celtics will send No. 34 to the rafters in Boston when they take on his old rival

It's never too early to look at June's NBA Draft