Report: Bucks to pursue Eric Bledsoe, Greivis Vasquez
Milwaukee reportedly wants to change its point guard situation next season.
• 1 min read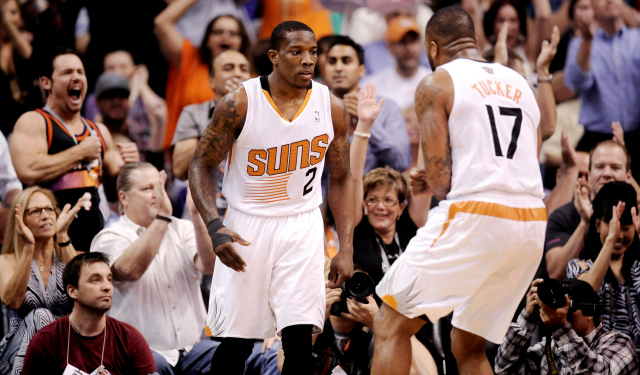 More Offseason Analysis: Coaching changes, news | Free Agency | Draft
It looks like Jason Kidd isn't satisfied with Brandon Knight as his team's point guard next season. The Milwaukee Bucks are set to pursue restricted free agents Eric Bledsoe and Greivis Vasquez, and might be interested in the Houston Rockets' Jeremy Lin, according to ESPN's Marc Stein:
In addition to weighing possible trade for Lin, I'm told Bucks are pitching offer sheet to RFA Eric Bledsoe and pursuing PG Greivis Vasquez

— Marc Stein (@ESPNSteinLine) July 5, 2014
It's worth noting that Yahoo Sports' Marc Spears reported that they do not want to pay $15 million for Lin's services next season.
Knight is a promising combo guard who is still only 22 -- another way of putting it is he's about five months younger than Miami Heat rookie Shabazz Napier -- and averaged 17.9 points and 4.9 assists per game for Milwaukee last season. He might be best at the shooting guard position, however, and could surely play alongside any of the guys being linked to the Bucks.
Whether they have a realistic shot at Bledsoe or Vasquez is another story. Bledsoe might command a maximum salary, and Phoenix Suns general manager Ryan McDonough has expressed numerous times that he plans to match any offer sheet. Vasquez has been extremely vocal about wanting to return to the Toronto Raptors, and on Friday it was reported that a deal was imminent.
With Kyle Lowry, Patty Mills, Shaun Livingston already having agreed to new deals, the market for point guards is thinning out quickly.
The commish said they were overly conservative with the decision this year, but that should...

A dive into the NBA history books for every result from every NBA All-Star Game

James set the tone during practice that this year's All-Star Game was going to be differen...
The 76ers center handled 'mismatches' like they were nothing

LeBron James says he will continue his social activism no matter what people say about him

The 76ers guard is in hot water after a controversial video surfaced showing him using a racial...