Report: Bulls and Tom Thibodeau open contract talks
There's no denying the caliber of basketball coach Tom Thibodeau. And there's no doubting that the Chicago Bulls love having him as their coach. But that doesn't mean a new contract will be easy to get done.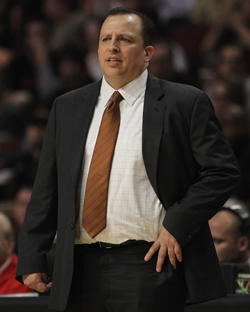 Tom Thibodeau awaits a new contract.
(Getty Images)
There's no denying that Tom Thibodeau is one of the better coaches in the NBA, even after just two seasons at the helm of the Chicago Bulls. And there's no doubting that the Bulls love having him as their coach.
But that doesn't mean a new contract will be easy to get done.
The Bulls picked up Thibodeau's 2012-13 option this summer, but have expressed the desire to complete a long-term extension. And those talks have started, according to ESPN Chicago:
Chicago Bulls chairman Jerry Reinsdorf and coach Tom Thibodeau have resumed negotiations about a contract extension for Thibodeau, according to a source familiar with the situation.

General manager Gar Forman repeatedly has stated that it is the organization's intention to lock up Thibodeau for the long term, even though talks stalled earlier in the summer.
Thibodeau replaced Vinny Del Negro two years ago and won 100 games faster than any coach in league history. He's taken the Bulls to the playoffs both seasons, and the Eastern Conference finals once. The Bulls have led the league in regular season wins both years, and Thibodeau was Coach of the Year in 2010-11.
Derrick Rose has been very vocal in support of Thibodeau and a number of players have said they want an extension for their coach.
"I'm not worried about it at all. He wants to be here. That's all the front office. I know they'll get it done," Rose said in March.
So what's the hang-up? Surely Thibodeau's people saw the way the Thunder just paid Scott Brooks -- a reported four-year deal worth around $18 million -- and expect an extension in that neighborhood. He wants to be paid like an elite coach.
Settling on those higher numbers is often a challenge. There are pretty distinct tiers in coaching pay, and naturally that's the desire for a guy like Thibodeau. The counter to it? He's only coached for two seasons, and last year the Bulls were ousted in the first round of the playoffs. (Granted, Rose suffered a knee injury, which is pretty relevant to that exit.)
Thibodeau won't be going anywhere. He's too popular and too good of a coach. But that doesn't mean it might not take a little time to get a new deal done.
Fergie: 'I'm a risk taker artistically, but clearly this rendition didn't strike the intended...

Victor Oladipo had a successful R&B album over the offseason and Jamie Foxx is a fan

Klay Thompson makes sure he stands out during All-Star Weekend
There's no shortage of moments to choose from

The Trail Blazers almost traded for Charles Barkley, but when they didn't, it put them in debt...

The self-proclaimed ASG snub Williams may be bitter about Butler requesting to sit out Sun...