Report: Bulls, Cavs, Bobcats, Grizzlies among Pau Gasol suitors
Lakers center will have offers from multiple teams if he decides to leave LA as a free agent.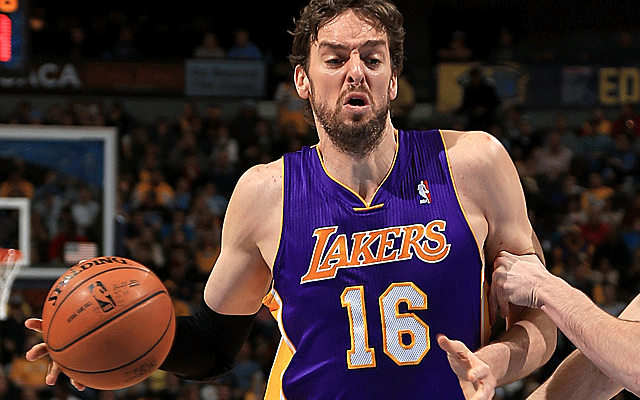 More NBA: Power Rankings | Expert Picks | Seasons in Review | Playoff Picture
Pau Gasol loves playing for the Los Angeles Lakers. He loves the team, the memories of when they were winning titles (and he could move without it hurting), the city and its culture. It's a much better fit for him than Memphis, a blue-collar southern town. 
But he hasn't been happy since Mike D'Antoni arrived. He's been involved in trade talks constantly. He's a free agent this summer, and SI.com reports that several teams are interested in the veteran forward/center, should he leave LA as expected. 
Gasol, though, will have options. A poll of NBA executives on Gasol's future returned many of the same answers: Chicago. Cleveland. Charlotte, if the Bobcats believe a Gasol-Al Jefferson front line can stop anybody. Memphis, if Zach Randolph opts out. Even after a disappointing season -- and with the understanding that Gasol has never been a strap-a-team-on-his-back kind of player -- Gasol will be among the most sought after free agents on the market.

"There are a couple thoughts out there on Pau," says an Eastern Conference executive. "Some people say he is worn out, that he is too far past his prime to really help a contender. There are others that think that LA, that environment the past two season, that style of play has destroyed him and if he goes somewhere else, plays with a different coach, he might be rejuvenated. I could see someone who thinks the latter paying him $10 million a year."
via Pau Gasol facing unceremonious exit from Lakers - NBA - Chris Mannix - SI.com.
Let's look at them individually.
Chicago: The Bulls would have to amnesty Carlos Boozer. Would losing Boozer at $16 million and then adding Gasol at $10 million be an upgrade? It's debatable, and Boozer has fewer injury issues. Could Gasol and Joakim Noah play together? That seems like some funky spacing. 
Cleveland: Sure, why not? They've made enough desperate attempts to make it into the playoffs by adding a veteran and failed, what's one more?
Charlotte: The answer to the "Can they stop anybody?" questions is "No. No they couldn't." But the Bobcats had a good interior defense with Jefferson and Josh McRoberts this year. You have to think Gasol would help to some degree. 
Memphis: This makes a lot of sense on a lot of levels... and the fanbase would hate it. Gasol has spoken negatively of the city on repeat occasions since leaving and he symbolizes the powerless, rudderless Grizzlies that never won a playoff game when Gasol was there. It's not a great fit. 
But the truth is that Gasol will have a lot of good options. He's still too talented and GMs have a a hard time letting go of what players used to be. 
The Pistons put out a long list of details regarding their new uniforms

The Pacers traded the forward to OKC for two former lottery picks who have yet to reach their...

Gilbert said what was expected, but didn't necessarily sound all that confident
Altman addressed the media about Irving during his introductory news conference

Toronto's center has an uncertain future; can we still talk about this 25-year-old's poten...

Oakley was vague with his response on when he'd attend another Knicks home game