Report: Bulls' extension talks with Luol Deng stalled
The Bulls and Luol Deng's agents have reportedly hit a snag when it comes to a possible extension, with the potential of free agent offers hitting $12 million per year in 2014.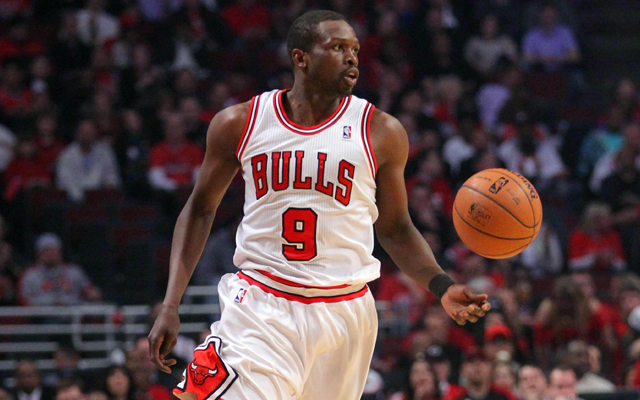 CSN Chicago reports that the Bulls and representatives of Luol Deng have hit an impasse in negotiations for the veteran All-Star forward. 
"We were optimistic," the source said of the mentality Deng's camp had heading into the late August meeting, approximately two weeks ago. "Our goal was to get an extension done this summer. If that's not what they want to do, so be it.

"We're not upset, Luol isn't upset. We're just looking forward to this season and next summer," continued the individual, who acknowledged that Bulls management expressed how much they value the two-time All-Star, even stating their desire to see him retire in a Bulls uniform. "They were willing to wait and risk losing him next summer as an unrestricted free agent."

While the likes of Miami's LeBron James and New York's Carmelo Anthony, other top players at his position, could opt out of the final years of their contracts and join Deng on the open market, he could still command significant attention as a free agent. A rival executive, speaking on the condition of anonymity, previously told CSNChicago earlier this offseason that he could envision Deng being offered a multi-year contract extension in the range of a $12-million annual salary if he indeed became an unrestricted free agent next summer.
via Source: Bulls' contract negotiations with Deng stall | CSN Chicago.
It's a complex situation, upon further reveal. Deng is up there for consideration as the Bulls' best non-Derrick-Rose player, an All-Star who has developed a consistent scoring game to go with some of the best perimeter defense you'll find. But the Bulls have also found wing Jimmy Butler to be ready for a bigger piece of the pie, and a young player on a cheap contract who can do much of what Deng does and has more upside. 
Meanwhile, the consisently thrifty-towards-the-tax ownership group has to handle a group that is becoming very difficult to keep together on the cheap. Rose, Joakim Noah, and Taj Gibson will combine for over $38 million of the Bulls' cap room in 2014-2015. Lock in another $12 million for Deng and you're at $50 million, without adding a low-post presence to replace (or retain?) Carlos Boozer. The reality may be that if Jerry Reinsdorf wants to keep this core together moving forward, he's going to have to soften considerably his stance on paying the luxury tax. Good teams with good players just don't come cheap anymore. 
Kobe Bryant had a solid piece of advice for back in 2016 when he left OKC for Golden State

Not many games, but still plenty of action and intrigue Sunday in the Association

An old rivalry is reignited between LeBron James and the Cavaliers and John Wall and the W...
SportsLine's Mike McClure, a DFS pro with more than $1M in winnings, gives optimal lineup...

LeBron had 29 points, 11 rebounds, and 10 assists in the Cavs' 109-100 win over the Jazz

The montage showed Carmelo's best Knicks moments before playing the Thunder game