Report: Bulls offering Taj Gibson, Mirotic, McDermott for Kevin Love
The Bulls reportedly put an offer on the table involving multiple forwards for the Minnesota All-Star.
More Offseason Analysis: Updating Free Agency news | Free Agent tracker
The Chicago Bulls have offered forwards Taj Gibson, Nikola Mirotic, and rookie Doug McDermott in a trade package for Minnesota Timberwolves star Kevin Love, according to multiple reports: 
The Chicago Bulls have offered a package of Taj Gibson and rookies Doug McDermott and Nikola Mirotic to the Minnesota Timberwolves for All-Star forward Kevin Love, a league source told SheridanHoops.com on Wednesday.

The package is extremely intriguing to the Timberwolves, but there is a catch; it cannot be completed for another 29 days because McDermott and Mirotic signed their rookie contracts Tuesday. NBA rules prohibit rookies from being traded within the first 30 days of inking their rookie deals.
via Bulls offered Taj Gibson, Nikola Mirotic and Doug McDermott for Kevin Love.
NBA source w/ a big stake in the #Twolves/Cavs talks verifies @sheridanhoops report: Gibson, Mirotic, McDermott on the table for Love.

— Darren Wolfson (@DarrenWolfson) July 23, 2014
According to a Timberwolves source, the Bulls made a "significant offer'' Wednesday morning for Kevin Love, and it's an offer that is being "heavily considered.''

The source said that the two headlining names in the package were Taj Gibson and Doug McDermott, "as well as a few other assets.''

There was a report that Nikola Mirotic was also involved, but the source could not confirm that.
via Bulls offer Taj Gibson, Doug McDermott for Kevin Love — source - Chicago Sun-Times.
The news comes as the Cavaliers continue to push for a deal involving Andrew Wiggins, Anthony Bennett, and a first round pick, and as Boston is reportedly considering backing out of pursuit of Love. Multiple teams including Boston are said to be working as a third team to facilitate a deal. 
It's suspicious that the leak is coming from the Timberwolves, who have been consistently leaking offers which has increased the bids for the All-Star, establishing leverage with Minnesota after Golden State had balked at including outstanding role player Klay Thompson in talks. There have been so many leaks in these talks that it's been reported various executives have been displeased with how Minnesota has handled it. But considering how much better the offers have gotten for Love over the past month, it's a pretty good tactic. 
The only expiring contract the Bulls have is Mike Dunleavy's $5 million, and the Wolves are looking to move contracts of Kevin Martin and J.J. Barea in the deal as well. The Bulls' offer likely isn't the best one they're going to get, but it does show how much better the offers get as each day goes by.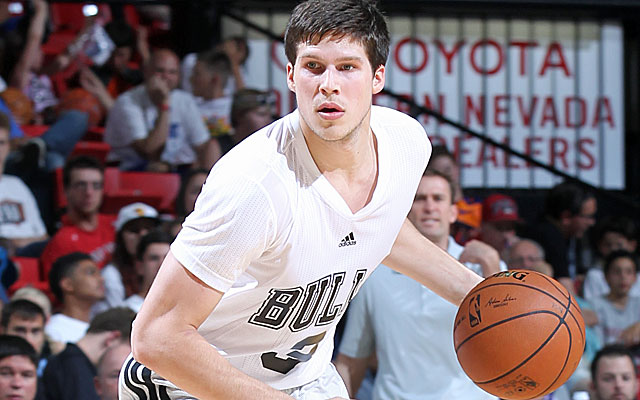 Here's a look at the several key questions heading into the first week of training camp

Signing Phoenix's qualifying offer will clear the big man to become an unrestricted free agent...

Markieff Morris was already in line to miss the start of camp due to a pending assault cas...
The 76ers should hopefully get a lot of play out of their young guys this season

Okafor's been on and off the trade block for over a year and doesn't seem to be in Philly's...

Fisher is the fourth NBA player to compete for the Mirror Ball trophy on the show