Report: Bulls renewing push for Love
Chicago is back in the Kevin Love race as Cleveland keeps trying to complete a deal.
Offseason: Free Agency | Latest from Ken Berger | Rumors
ESPN reports that the Bulls have re-entered the trade talks for Kevin Love and are making a significant push while the Cavaliers keep trying to move forward to acquire the All-Star from the Timberwolves. 
Sources told ESPN.com the Cavs are increasingly optimistic that they are progressing toward a trade framework that the Minnesota Timberwolves will accept in exchange for Love to pair him with his Team USA teammate LeBron James.

Cleveland's offer, sources said, would be headlined by No. 1 overall pick Andrew Wiggins, 2013's No. 1 overall pick Anthony Bennett and a future first-round pick. At least one more player might have to added to the package to satisfy NBA trade rules.

Sources say that the Bulls, though, have this re-entered the race and would appear to be the biggest threat to the Cavs, thanks largely to the Golden State Warriors' resolute unwillingness to add longtime Wolves target Klay Thompson in a deal.

Although the full extent of the Bulls' offer wasn't immediately known, it is believed Minnesota would seek a package from Chicago featuring forward Taj Gibson and defensive ace Jimmy Butler in addition to other assets. The Bulls shelved their Love interest while trying to sign Carmelo Anthony away from the New York Knicks but, according to sources, have re-emerged as a contender.
via Chicago Bulls join Cleveland Cavaliers in Kevin Love trade push - ESPN.
The Bulls have the players, space, and future assets to make a major push for Love, better than the Warriors, even if they relented on their ridiculous insistence to not include Klay Thompson in the deal. A package including two No. 1 overall picks from Cleveland is still superior to what Chicago can offer. 
But if Timberwolves president Flip Saunders wants players to help him win now, Chicago can offer Gibson and players that can help accomplish that, while also giving future draft picks. 
This could be someone trying to exert leverage over the Cavaliers, who still have sent mixed signals about whether they're willing to include Wiggins in any offer. Either way, the Cavaliers will have to keep pushing. Despite all the talk about the Wolves being up against the wall, the offers keep going up and they're set to get decent to good return on their superstar, even if you can never trade such a player and win the deal.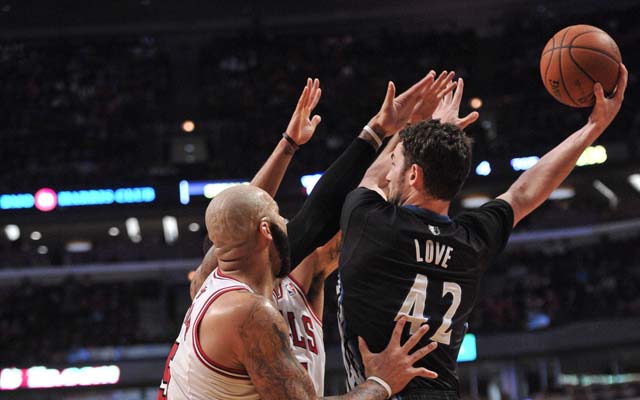 Westbrook's late layup gave the Thunder a 109-108 victory

LeBron became the seventh player in league history to reach the milestone

There were a few things that stood out from Tuesday's All-Star selections
Here are three players from each conference who had legitimate claims to make the game

LeBron achieved the milestone in the first quarter Tuesday

Here are the full lineups for the 2018 NBA All-Star Game