Report: Bulls targeting draft pick swap with Denver for No. 11
Chicago reportedly wants a shooter, either Gary Harris or Nik Stauskas at 11. Would Denver go for two draft picks?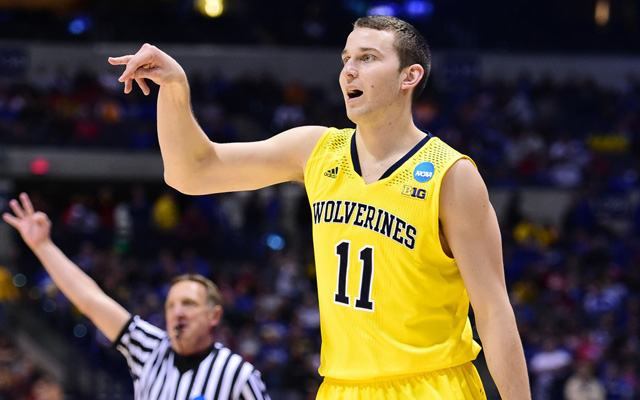 ESPN reports that the Chicago Bulls are looking to trade their 16th and 19th picks together to the Denver Nuggets to move up to No. 11 and grab a shooter in this month's draft. 
The Bulls have been trying to move up in the draft to get an elite shooter. Their target has been Denver with an offer of the 16th and 19th pick for 11. If they get there, Gary Harris or Nik Stauskas will be the guy with them, likely leaning toward Stauskas.
via ESPN NBA Mock Draft - ESPN.
It's good to have backups, since there's at least a decent chance that one of them gets taken in the top ten, but it's unlikely both go. It's surprising to a degree that Stauskas would be the choice. He's a little slower and a little more ball-dominant. But he's also extremely crafty. Either option would be good. 
Denver has been making noise for the past two months, since they effectively fell out of the fifth spot when the Knicks went on a brief, useless winning streak, about trading out of their pick. No. 16 and No. 19 is a pretty good haul even if it's not going to land them a elite player. They pick up a wing and a big man in those spots (Adreian Payne might be available there) and if they were to package those two picks with Kenneth Faried, they could really fetch something. 
So Denver wants to move, and Chicago wants to move up. It's rare that deals that get floated this early actually happen, but it's out there. 
Mirotic and Portis combined for 49 points as the Bulls won their fifth straight game, beating...

Gobert, who missed 11 games earlier this season with a knee injury, will have an MRI

Get all the latest scores, news and highlights from Friday's NBA games
Porzingis is questionable for Carmelo Anthony's return to MSG on Saturday

The Spurs and Rockets will renew their in-state rivalry on Friday night

Anthony will play at Madison Square Garden on Saturday for the first time since being trad...