Report: Bulls want young player and pick for Luol Deng
Chicago may not be shopping Deng but they do have an established price for the All-Star forward.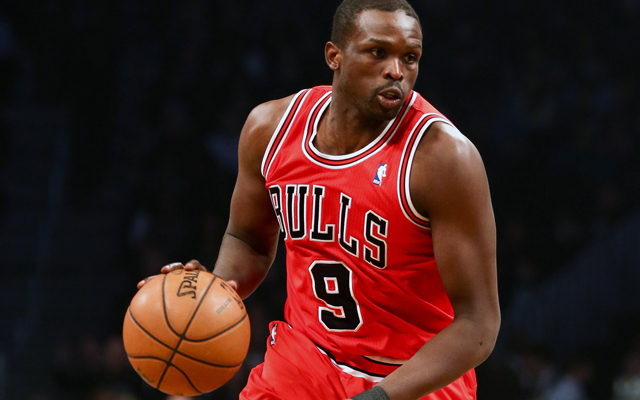 The Bulls leaked a week ago that Luol Deng is not being actively shopped, despite an extension dispute that has resulted in Deng becoming an unrestricted free agent this summer. After Derrick Rose went down with knee surgery for the second time in three years, there were rampant discussions that the Bulls would clean house, moving both Deng and Carlos Boozer. Instead, they've stayed pat. 
But not shopping Deng is different from not having a set price for him in trade, and CSN Chicago, in a wide-ranging piece on the implications of Deng's upcoming free agency, reports that there is an established, and high, price for the All-Star forward. 
Luol Deng is a wanted man.

No, certainly not by law enforcement and not even so much on the NBA's trade market, as many teams are hesitant to take him on as a half-season rental, especially if the Bulls' price is a productive young player and a first-round draft pick, as people in the know around the league continue to say. But more significantly, Deng's prospective suitors are more eager about his impending unrestricted free agency, when they could have a chance to woo him away from the only franchise the two-time All-Star has ever played for in his professional career, signing him free and clear.
via Bulls' Luol Deng's upcoming free agency can't be ignored | CSN Chicago.
That's actually a pretty fair price they're asking for. Veteran all-world defender who can hit threes and score off the dribble, but isnt' a superstar. Young player plus pick makes sense. 
But they'll never get it. 
You can't give up that kind of haul for a half-year of that guy with no assurances he'll re-sign in one of the best drafts ever (or at least being hyped that way). You just can't do it. If they really want to make a move, they can get multiple quality role players and maybe a young productive player, but that pick is not going to be available unless a major contender loses a significant cog that they can still win without if they get Deng. That's a really narrow set of parameters. 
So Deng is likely staying in Chicago till the summer, and then the question becomes whether the Bulls' historically draconian negotiating tactics yet again win out, netting them Deng at the price they want, or if Deng decides to go somewhere he maybe won't have to play a ton of minutes in a bruising defense and maybe will be appreciated. 
Deng is averaging 19.6 points, 7.0 rebounds, and 4.1 assists per game for Chicago this season. 
Mirotic and Portis combined for 49 points as the Bulls won their fifth straight game, beating...

Gobert, who missed 11 games earlier this season with a knee injury, will have an MRI

Get all the latest scores, news and highlights from Friday's NBA games
Porzingis is questionable for Carmelo Anthony's return to MSG on Saturday

The Spurs and Rockets will renew their in-state rivalry on Friday night

Anthony will play at Madison Square Garden on Saturday for the first time since being trad...