Report: Bulls will not seek trade of Luol Deng
Chicago forward staying put despite extension dispute.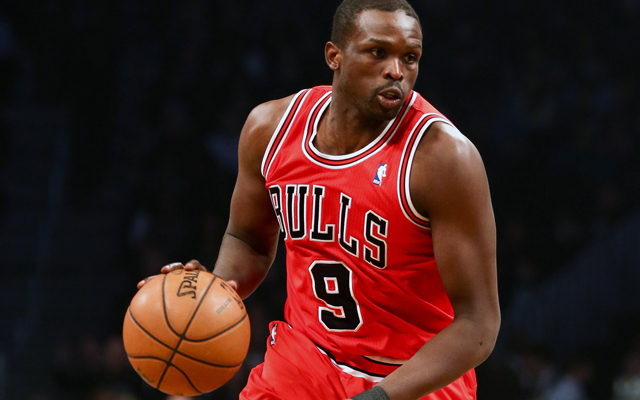 The Chicago Bulls are a mess. Derrick Rose is gone, again. They have myriad injury issues. Their season is pretty much lost. There are constant rumors that the organization plans to move on from the core they put together which made a title run in 2011. 
But ESPN Chicago reports that the Bulls have changed course and have no plans to trade Luol Deng, who sat out Thursday's loss in Oklahoma City with injury. 
Despite a season that has been wrecked by injuries, the Chicago Bulls are determined not to trade impending free agent forward Luol Deng, sources told ESPN.com.

Teams have been inquiring about Deng's availability recently as the Bulls have sunk in the standings following a knee injury that ended Derrick Rose's season. This week, Deng told the Chicago Sun-Times he was preparing for the possibility he may be traded.

But sources said that is not in the team's plans. Despite failing to come to terms on a contract extension before the season, the Bulls remain optimistic they will be able to re-sign Deng next summer.
via Chicago Bulls not seeking trade for Luol Deng - ESPN Chicago.
Deng was notably unhappy that the team elected not to come to terms with him on an extension. Deng will be 29 next summer, set up for his last, big, long-term contract. The Bulls typically tend to follow this route, surrendering the money only when absolutely necessary and wearing down the price through the process of attrition.
It really shouldn't work, but often it does. Will Deng buckle? We'll have to wait till next summer to find out. For now, get ready for a steady year of competitive losing behind the dying days of this Bulls core, unless the front office talks themselves into another run. 
Last year Durant said returning to his old home was 'never going to be a regular game'

The All-Star forward injured his wrist during Sunday's loss to the Lakers

Steven Adams believes he's the problem with the Thunder struggles in the clutch
LaVar claims that Luke Walton has been 'soft' on Lonzo so far

Allen has filed an emergency motion in an Orange County court in response to an accusation...

Larry Hartstein has been crushing NBA picks and just made a play for Bulls vs. Lakers on Tuesday...