Report: Bynum-Gasol trade talks back on, deal could happen Sunday
According to an ESPN.com report, talks between the Lakers and Cavaliers have resumed after hitting a standstill. The Cavaliers reportedly would like to make a deal before Bynum's contract becomes fully guaranteed on Tuesday.
by

Eye on Basketball staff

• 1 min read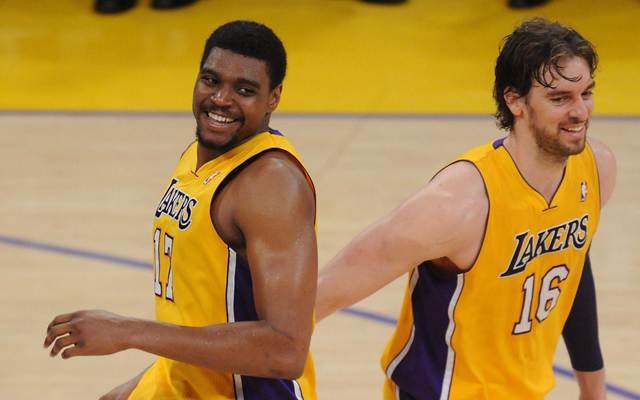 The Cleveland Cavaliers and Los Angeles Lakers could possibly execute a trade that would involve Pau Gasol and Andrew Bynum. The deal could be completed by Sunday, according to an ESPN.com report. 
Talks had reportedly hit a standstill late last week, but ESPN is now reporting that the Cavs would like to complete a trade by Sunday so that it would happen ahead of Bynum's contract becoming fully guaranteed on Tuesday.
The Cavs have been involved in talks with other teams looking to take advantage of Bynum's contract. The deal is for $12.3 million this season but if a team waives Bynum by Tuesday it will owe him nothing because the $6.3 million left on the contract is not guaranteed if he's released by that date.
via Cavs want Bynum deal by Sunday - ESPN
Ken Berger of CBSSports.com reported this week that the two teams held discussions in a move he described as harmful to the Lakers for both the short and long term.
The Lakers could stand to save significant money in such a deal if it's completed by Sunday. In order to complete the deal, the Cavaliers would have to include another player or the two teams would need to involve a third team. Adding anybody from C.J. Miles ($2.25 million this season) to Alonzo Gee ($6.25 million over next two years) to Earl Clark ($8.5 million over two years) would be enough to push the deal through. The Lakers could then waive Bynum and only be on the hook for his $6.3 million.
This would push them well below the luxury tax apron that brings you into severe penalities for the repeater tax.
For the Cavaliers, adding Gasol to their attack could help right a ship that has looked to be sinking in the Eastern Conference for the past couple weeks. Gasol has played better as of late, despite battling an upper respiratory infection and Bynum has given the Cavs very little. Pairing Gasol with Anderson Varejao would also save the Lakers' big man from the pounding of playing the center position all the time.
The Cavaliers are just 11-22 but only three games out of the eighth seed.
Knicks forward had his truck stolen out of his driveway

The Celtics will send No. 34 to the rafters in Boston when they take on his old rival

It's never too early to look at June's NBA Draft
Cousins uses some colorful language to get his point across

The awards are voted on by peers in the NBA and adds to Russ' league MVP award he won this...

Minnesota is facing even bigger expectations headed into next season, and they'll be difficult...