Report: Byron Scott, Mike Malone, Brian Shaw candidates for Clippers
The Clippers are looking for a new head coach and will reportedly have one in place by June 27, the day of the draft.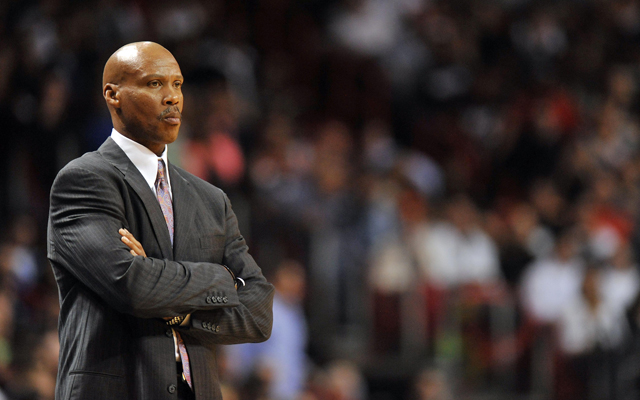 After commandeering the most successful three-year run in franchise history, Vinny Del Negro was not retained by the Clippers. And with Chris Paul headed for free agency, the team is obviously keen on bringing in a replacement that CP3 likes. 
The job is easily the most attractive coaching vacancy this offseason and will surely bring in a very interested group of candidates.
Via the Los Angeles Times, that list is starting to become a bit clearer. 
Former Cleveland Cavaliers coach Byron Scott, Golden State Warriors assistant coach Mike Malone and San Antonio Spurs assistant coach Mike Budenholzer are the top candidates to replace Del Negro, one NBA executive said.

Indiana Pacers assistant coach Brian Shaw and ESPN analyst Jeff Van Gundy also are candidates, as is former Phoenix Suns coach Alvin Gentry, who coached the Clippers for three seasons, from 2000 to 2003, a league executive said.

Former Orlando Magic coach Stan Van Gundy would have been a candidate for the Clippers job if he hadn't said recently that he wasn't interested in coaching next season, the executive said.

Atlanta coach Larry Drew, whose future with the Hawks remains uncertain, is also interested in the Clippers job, several NBA executives said.

Memphis coach Lionel Hollins, whose team is playing the San Antonio Spurs in the Western Conference finals, also is someone the Clippers are interested in. But Hollins, who is in the final year of his contract, might be too pricey for the Clippers, and the Grizzlies haven't given any team permission to speak with Hollins, an NBA executive said.
Of course, Scott has a history with Paul, coaching him in New Orleans. Same with Malone, a highly regarded assistant who served under Monty Williams while Paul was with the then-Hornets. 
According to the report, the Clippers haven't talked with any coach yet and are just organizing a list of candidates. The report says the team plans to have a new coach in place by the time of the draft, June 27. 
With 2K18 out everybody wants to know who has the 10 highest ratings in the game. Here's the...

Durant noted in an interview that all of the criticism in the immediate aftermath hit him...

Want the swagger of LaVar Ball? "NBA 2K18" lets you copy his absurd run from his WWE appea...
Durant apologized for a few tweets in which he criticized OKC and his former coach Billy D...

Lue does not expect the Cavs' big trade to affect the team's starting frontcourt ... at least...

Dwight Howard wants to be a farmer in his future and retire with his donkeys