Report: Carmelo Anthony has no-trade clause, opt-out in new deal
Carmelo Anthony has re-signed with the New York Knicks for five years and $124 million. In that new deal, he has a no-trade clause and an early opt-out.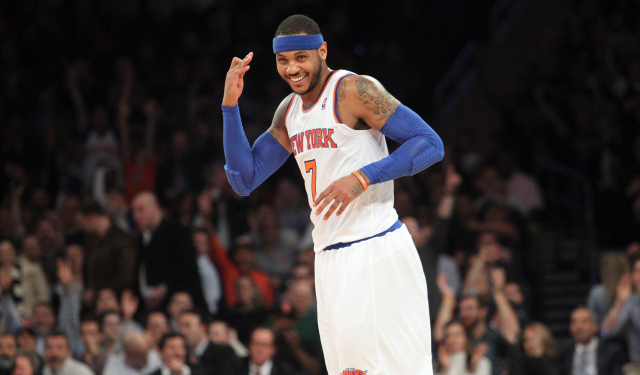 More Offseason Analysis: Coaching changes, news | Free Agency | Draft
The New York Knicks were able to retain their star this summer when they re-signed Carmelo Anthony for five years and $124 million. Even though the Knicks aren't in a position to contend, they were in a position to offer their star forward more money than any other team and a couple of items to give Anthony as much power as possible over his future with the team during the next five years. 
According to Frank Isola of the New York Daily News, Melo's new contract includes a no-trade clause, allowing him to veto any possible trades that he doesn't want to be included in. But that's not all of the power Melo has in this new deal. He can also opt out of his five-year deal after year 4, giving him the flexibility to be a free agent in 2018, according to Ian Begley of ESPN New York.
Carmelo Anthony has more power than you think. According to a league source, his new deal includes a no-trade clause, Daily News has learned

— Frank Isola (@FisolaNYDN) July 16, 2014
So Carmelo Anthony has an early termination option in the final year of his new contract, just as he did in his last #Knicks contract.

— Ian Begley (@IanBegley) July 16, 2014
It seems unlikely Melo will be in the position to better his financial standing in the league in terms of salary when he's 35 years old and slated to make somewhere in the neighborhood of $30 million. However, he could always decide to opt out to either leave for a better situation if the Knicks aren't a title contender there, or he can try to secure a long-term deal at a discounted rate. Phil Jackson giving him that kind of power over his own future with the team is a nice concession for sticking it out with Phil's plan.
The Knicks are in position to add key players to their roster starting next summer. Anthony is hoping Jackson's plan for rebuilding the team and turning them into a contender is a quickly executed plan. But if it isn't, at least he's making a lot of money to ease the pain.
(H/T - ProBasketballTalk)
DH12 is picked for free throws after a teammate gets ejected. He makes both, and lets Scott...

Bell was injured defending a Robin Lopez dunk and had to be taken off the floor in a wheel...

Trevor Ariza and Gerald Green are reportedly both suspended two games
We've got all the scores, highlights and news from the night's games

Jonah Keri talks with NFL and NBA broadcaster Ian Eagle

SportsLine simulated Wednesday's Nuggets-Clippers game 10,000 times