Report: Carmelo Anthony hoping Knicks can bring in LeBron James
Carmelo Anthony is reportedly hoping the New York Knicks can clear the cap space to sign LeBron James, which is astounding.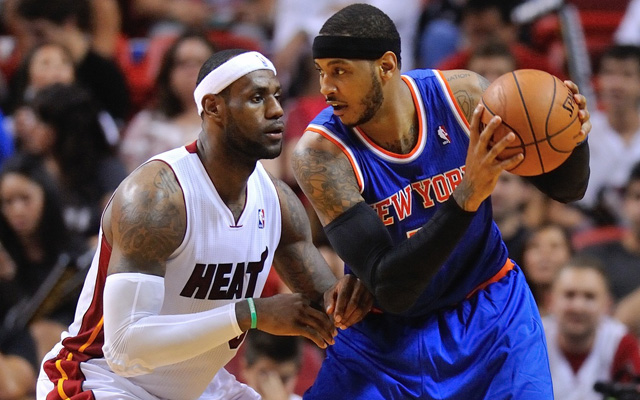 More Offseason Analysis: Coaching changes, news | Free Agency | Draft
What is taking Carmelo Anthony so long to make his decision? The New York Knicks' free agent still hasn't made or announced a decision about where he'll sign between the Knicks, Los Angeles Lakers, and Chicago Bulls. The delay could be related to the hope that the Knicks can find enough cap space in order to also sign LeBron James. 
Marc Berman of the New York Post is reporting Melo is reportedly hoping Phil Jackson can move the contracts of Amar'e Stoudemire, Andrea Bargnani and others in the hopes of signing LeBron to a big deal. It would pair the two friends together and give the Knicks two stars on their way to building a super team.
According to a friend of Anthony's, Melo has held out faint hope Knicks president Phil Jackson can pull a miracle and clear out the necessary salary-cap space to get it done, but he is running out of time. Anthony's decision could come in the next couple of days.

It would require Jackson to ship out Amar'e Stoudemire and Andrea Bargnani's expiring contracts, and for Anthony and James to take less than the max. Iman Shumpert might have to be dealt, and the rights to Jeremy Tyler renounced.

One report said Jackson conceivably can move $40 million under the cap with a flurry of moves — as long as he doesn't take back salary.

"He really wants LeBron to come to New York,'' the source said. "That's his dream right now. Phil is trying to get it done.''
Phil Jackson is amazing but he's not a wizard. Finding homes for Stoudemire, Bargnani, and others while not possessing the assets to sweeten the deal is like me wishing for a mansion in Malibu without having any money to make it happen. Although, if Phil Jackson wants to help out with that, I'm all ears. Anthony wanting LeBron is nice but it's also impossible for Jackson to make happen.
With this kind of hope, it makes you question whether or not Anthony will actually re-sign with the Knicks. Their contract offer of five years and $129 million trumps every other dollar amount teams can offer him, but it's also the least competitive option for him if he's hoping for a chance at a championship. Jackson is in the process of reworking the roster, but he needs more than a month without any real assets to deal to make this happen.
The investigation detailed a hostile workplace environment

Cousins suffered a torn Achilles tendon on Jan. 26, and will miss the rest of the season

Ingram has become one of the team's go-to players with Lonzo Ball sidelined with an injury
Giannis skipped EuroBasket last summer, and has missed four games this season with knee so...

Some of the best and worst from the league as we head into the home stretch of the season

Cuban acknowledged that tanking is 'brutal' and that he will no longer do that after this...