Report: Carmelo Anthony 'largely aligned' with Knicks' vision
New York reportedly has a good chance of keeping Carmelo Anthony.
• 1 min read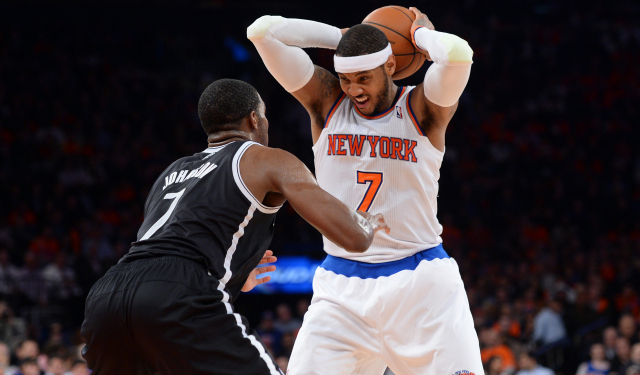 More Offseason Analysis: Coaching changes, news | Free Agency | Draft
Carmelo Anthony was impressed with the plan the New York Knicks presented to him in their Thursday meeting, according to Yahoo Sports' Adrian Wojnarowski.
All-Star forward Carmelo Anthony probed New York Knicks management on the franchise's plan to restore a contending roster and left his final free-agency meeting largely aligned with president Phil Jackson's vision, league sources told Yahoo Sports.

Anthony had direct questions for Jackson and coach Derek Fisher during a Thursday meeting in Los Angeles, and Anthony's increased confidence with the Knicks' direction – which includes a maximum contract offer of five years and $129 million – has strengthened the franchise's chances of re-signing Anthony, league sources told Yahoo Sports.
Fancy that. Anthony might want to play for the team that can offer him $129 million. This, combined with the fact that he and his family are comfortable where they are, is why New York always had a bit of an edge, as long as the franchise could convince him he would be able to win there. That's still the big question, as there's really no way to argue against the assertion that the Chicago Bulls and Houston Rockets give Anthony the best opportunity to win in the short term.
The free agent forward will reportedly take the weekend to think about his options and make a decision, but Knicks president Phil Jackson "dispelled doubts that he was indifferent about Anthony staying with the Knicks," according to Yahoo Sports. 
If Jackson has indeed sold Anthony on the future of the organization, it is only the first step in what could be a long road back to relevance. New York needs to show significant improvement next season, and then Jackson and Anthony -- if he re-signs -- will try to attract more talent a year from now.
New York seems to be at the top of Irving's list of preferred destinations

Is it just a normal workout, or is LeBron continuing his recruiting efforts?

Chris Bosh answered on the spot about the LeBron James and Kyrie Irving situation
LeBron James is pitching free agents on Cleveland but the Cavs can't even reach Kyrie Irving...

Thanks to the Rockets, the Nets might be open to selling a controlling stake

Stephen Curry likes what he sees in this fan