Report: Carmelo Anthony narrows options to Lakers, Knicks, Bulls
Only three teams remain in Survivor: Melo and the Lakers, Knicks and Bulls are vying for the services of the All-Star forward.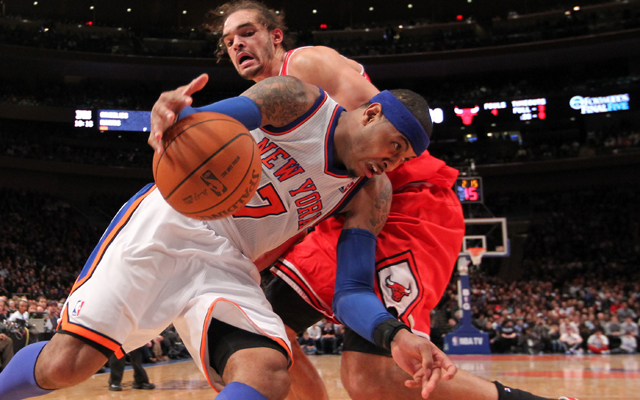 More Offseason Analysis: Updating Free Agency news | Top 40 free agents
The New York Daily News reports that as Carmelo Anthony weighs his options in free agency, the list is down to three teams: the Los Angeles Lakers, the Chicago Bulls and the New York Knicks. 
Carmelo Anthony is "torn" over where to spend the prime years of his career, according to a friend of the Knicks All Star forward.

Anthony, 30, is still debating his next move with the Knicks, Lakers and the Bulls as his top three choices, the source claims. Chicago is still in the running despite the fact that the Bulls, barring a sign-and-trade, cannot come close to matching the max deals the Knicks and Lakers offered Anthony last week. However, the Bulls do allow Anthony to stay in the Eastern Conference, play in the large market and join a contending team.
via Carmelo Anthony undecided between Knicks, Lakers, Bulls - NY Daily News.
This would seem to vibe with indications over the weekend that the Lakers and Knicks had separated themselves. It had seemed that Chicago might have fallen out of favor. And this does mean that the Rockets, who are pursuing Chris Bosh hardcore, and the Mavericks are moving on to other options. 
For Anthony, it basically comes down to best chance to win now (Chicago) vs. most money and Phil Jackson (New York) vs. Kobe Bryant and the max money outside (LA), along with living in LA. 
Not an easy choice. 
This thing has evolved crazy fast, like everything in free agency. On Saturday morning, Anthony was expected to return to the Knicks. By Saturday night, the Lakers had "a real shot" at Melo. And now the Bulls are back in the picture. So by Monday night the Harlem Globetrotters could be in this. Tuesday morning, the ABA Memphis Pros might make a bid. Who knows. 
But if it is down to three teams, Anthony could reach an agreement sooner rather than later. 
Durant, who joined the Warriors, says that Capela, the league's most efficient player, has...

Jason Kidd's firing gets the celebratory balloon treatment on Milwaukee's Twitter page

Milwaukee has parted ways with its coach in the middle of his fourth season
Larry Hartstein has his finger on the pulse of the Clippers and locked in a play for Monday's...

Our advanced computer model simulated Monday's Heat-Rockets game 10,000 times

Portland is among a few teams that have reportedly tried to engage in talks for the Clippers...