Report: Carmelo Anthony not willing to wait for 2015 for Knicks rebuild
As a potential free agent this summer, Carmelo Anthony may not be willing to wait on the Knicks' dreams of a 2015 free agent to keep him in New York.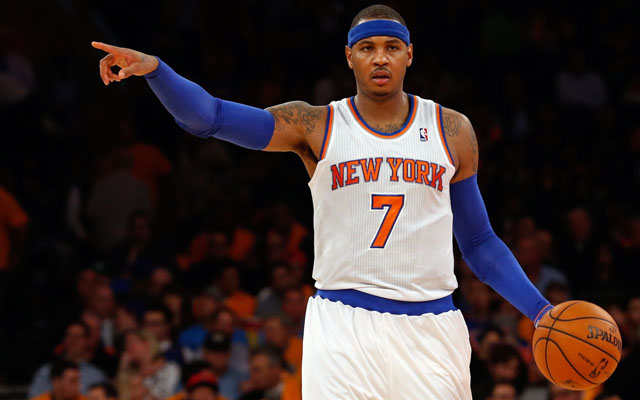 More NBA: Power Rankings | Expert Picks | Latest news, notes
The conversation about Knicks forward Carmelo Anthony's summer 2014 free agency opt-out has evolved quite a bit. Last summer it was "Anthony is sure to re-sign." Then it became "Anthony is extremely likely to re-sign." Then the Knicks started really losing and as the season got out of hand, it became "Anthony will probably re-sign."
Now we're in murky territory. As noted poet DMX once said, "It's dark and hell is hot." It's hard to see what happens with Anthony as he debates leaving nearly $30 million on the table or staying with a franchise that has moved past laughing stock and into "just sad" territory. 
The New York Daily News reports one significant facet that people close to Anthony don't want to wait for a future rebuild. If the Knicks are going to keep him, they have to make moves this summer for next year, period. 
The counterargument is that Anthony needs a better supporting cast. That is true. But the Knicks' salary-cap situation is such that if they re-sign Anthony they'll have to wait until 2015 to add that second star. For one, I'm hearing that Anthony's camp is interested only in the summer of 2014. They don't want to hear about 2015. And they're right. Anthony will be 31 with a lot of NBA miles on his legs before reinforcements arrive.
via Knicks owner James Dolan should say bye to Carmelo Anthony and start over - NY Daily News.
Kevin Love and Rajon Rondo headline the 2015 free-agency class. New York will always be an attractive location for free agents because, you know, it's New York. But the top superstars like Rondo and Love are also going to take winning very seriously into consideration, and how the organization is run. If you were one of them, would you want any piece of this? 
Meanwhile, Anthony's right not to want to build a title contender on dreams. He's the one that carries the burden, he's the one who's a free agent and must be wooed, he's the one that is the face of the franchise. You have to show him from the get-go you're ready to contend.
The Knicks are not.
Maybe they can pull off some sort of huge deal on draft night or in free agency. But the clock's ticking and it's getting louder every day.
Steven Adams believes he's the problem with the Thunder struggles in the clutch

LaVar claims that Luke Walton has been 'soft' on Lonzo so far

Allen has filed an emergency motion in an Orange County court in response to an accusation...
Larry Hartstein has been crushing NBA picks and just made a play for Bulls vs. Lakers on Tuesday...

He also apparently knows how to navigate the city risk-free

LeBron's minutes are a common point of discussion this season