Report: Carmelo Anthony to meet with Bulls, Rockets, Mavs
Free-agent-to-be Carmelo Anthony will reportedly visit with Chicago, Houston and Dallas.
• 1 min read
More Offseason Analysis: Coaching changes, news | Free Agency | Draft
Carmelo Anthony plans to meet with the Chicago Bulls, Houston Rockets and Dallas Mavericks once free agency begins on July 1, according to ESPN's Chris Broussard. He is expected to consider staying with the New York Knicks, too.
The meetings have not been set up because the teams are not yet allowed to contact free agents. But Anthony has decided he will give those three teams a chance to recruit him when they are able to.

While there has been speculation that Chicago is at the top of Anthony's list of potential destinations, one source said there is no true favorite in his mind.

…

"Those three teams plus the Knicks seem to be the ones he's going to consider," one source said.
It's interesting that the Los Angeles Lakers and Miami Heat are not on the list, as Kobe Bryant has reportedly already spoken to Anthony and Miami has reportedly discussed trying to bring him in.
Though the Los Angeles Lakers are not on Anthony's current list, Kobe Bryant plans to recruit him to the team. Bryant, who is close with Anthony, spoke to him by telephone when they were in separate parts of Europe earlier this week.

Bryant told ESPN.com in a text message that he plans to meet with Anthony, as well.

For all the talk about Anthony joining LeBron James, Dwyane Wade and Chris Bosh in Miami next season, sources said there has been no talk about going to the Heat from Anthony.
It's worth noting that the Mavericks are about to acquire Tyson Chandler from the Knicks and open up more cap space. This is just speculation, but one would think the presence of Chandler would help Dallas' chances. Still, if he leaves New York, then Chicago and Houston have seemed for a while like his most likely destinations, as they each have two other stars to play alongside him.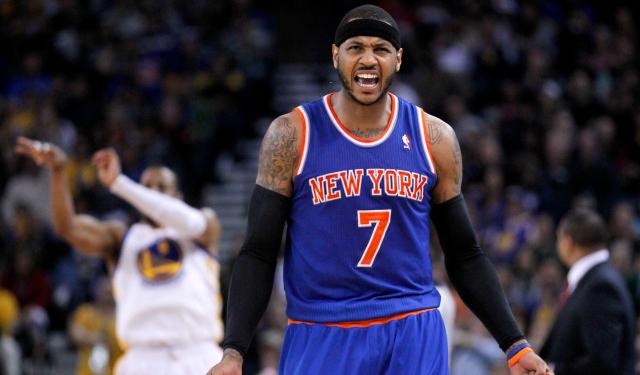 We've got you covered for all the scores and highlights from Sunday's NBA games

The Cavs superstar compared Kaepernick to Martin Luther King Jr. and Muhammad Ali

The Warriors coach isn't surprised that the president and LaVar Ball are in a war of words
Kyle Kuzma is tired of how his teammate Lonzo Ball is being treated

The Warriors used a huge third quarter to come back from a 23-point deficit to get the win

Three takeaways from Golden State's 24-point rally past the Sixers