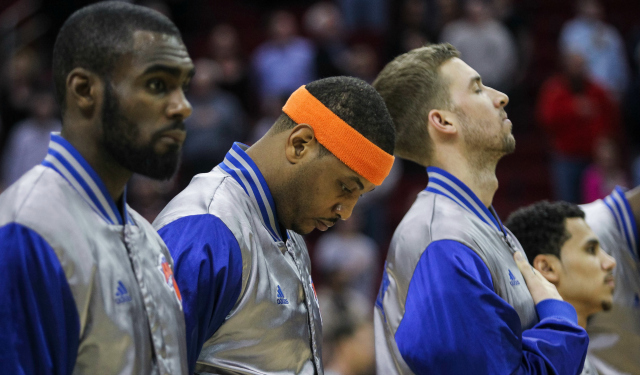 The New York Knicks are 4-19, and teams like that tend to have confrontations. Star foward Carmelo Anthony and second-year swingman Tim Hardaway Jr. had themselves quite an angry back-and-forth during their loss to the Brooklyn Nets last Tuesday, according to ESPN's Chris Broussard:
The New York Knicks were en route to their fifth straight loss last week against Brooklyn when a frustrated Tim Hardaway Jr. screamed angrily, "Get the rebound!''

Certain his second-year teammate was speaking to him, Carmelo Anthony approached Hardaway on the way down the court and used an expletive to ask Hardaway who in the world he thought he was talking to.

Anthony, according to sources, then used another expletive in telling Hardaway he was going to beat him up when they got into the locker room after the game.

While the two players never wound up fighting, the episode was emblematic of the volatile state of the Knicks. Off to their worst start in franchise history at 4-19, the Knicks are a team full of discord, defiance and doubt, according to sources with knowledge of the situation.

"Nobody's taken a swing at anybody, but there's a lot of arguing and cursing each other out after games,'' one source said.

…

Several Knicks, in addition to Hardaway, are at odds with Anthony and believe he's not playing team basketball. Sources said players voiced their displeasure with Anthony this past weekend, telling him he shoots too much, doesn't move or pass the ball, and only plays defense when he feels like it.

Sources said the most tension exists between Anthony and Hardaway as they haven't cared for one another almost since Hardaway joined the team last season, with each player believing the other shoots too much and doesn't care about defense. Sources said Hardaway was also bothered by the favorable treatment Anthony received under last year's coach, Mike Woodson.
Also (perhaps more) noteworthy from the story: the Knicks players reportedly dislike running the triangle offense. Everything's just rosy in New York, isn't it?
It's obviously a problem if Anthony and Hardaway are indeed at odds. The Knicks do not have lots of young players with potential, but Hardaway is in that category. Ideally, they'd keep him around and try to develop his game. If that's going to happen, I'd assume they'd like him on the same page as their franchise player. This sounds like the opposite of that.
The "discord, defiance and doubt" stuff? Well, New York seemed to think it would be competitive this season. It seemed to think last year was an anomaly, or at least it was something from which the new coaching staff could distance itself. Instead, it's only gotten worse since the Mike Woodson era ended -- certainly, trading away Tyson Chandler has not helped the Knicks defend. You can understand there being frustration and trust issues in the locker room. Find any team that has lost nine games in a row, and you'll find tension.
New York is in San Antonio to play the defending champs on Wednesday.