Report: Carmelo Anthony wanted Knicks to add Rajon Rondo
Carmelo Anthony reportedly wanted the Knicks to trade for Celtics point guard Rajon Rondo.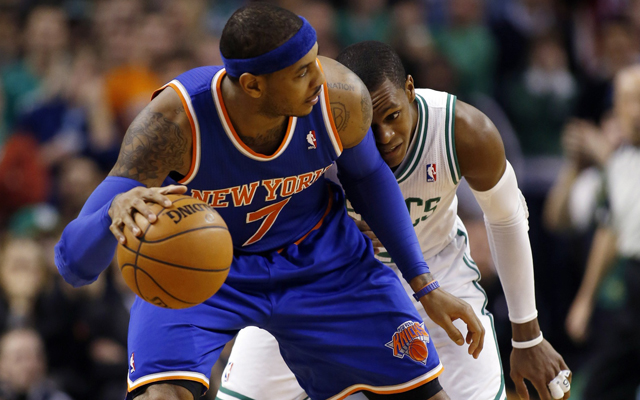 The New York Post reports that New York forward Carmelo Anthony wanted the Knicks to pursue a trade for Boston point guard Rajon Rondo ... and thought the team would. 
Anthony told friends after the Kevin Garnett and Paul Pierce trade to the Nets, he figured the Knicks would make a play for point guard for Rajon Rondo. Anthony believes Rondo would be the perfect piece and would be super motivated in New York to attempt to knock off Garnett and Pierce.
via Marc Berman: Los Angeles Lakers a believable landing place for Carmelo Anthony if he leaves New York Knicks after 2013-14 season -- NYPOST.com.
"Oh, hey Raymond Felton. Didn't see you there." 
Rondo would of course be a great fit in New York, with the ability to distribute at a higher level than Felton. Felton is a better shooter ... or so I thought. Then I looked up the figures. Rondo shot 48 percent from the field in 2013 and just 24 percent from the arc, while Felton shot just 43 percent from the field, but 36 percent from 3. Rondo had a 52 percent True Shooting percentage (factoring threes and free throws) last season while Felton averaged a 51 percent TS mark. 
Rondo contributed 49 percent of all available assists for the Celtics before his ACL injury, while Felton contributed 27 percent. 
So Rondo would be a substantial upgrade, and Melo is clearly hoping to capitlize on Rondo's  potential resenment at being abandoned in Boston with Garnett agreeing to waive his no-trade clause to go to Brooklyn, all while Rondo was rehabbing his injury. It would make the Knicks much better ... if Anthony would give Rondo the authority to run true point guard and orchestrate the offense. Rondo can't work effectively off-ball. Anthony would have to surrender some power to get there. Is he willing to do that? 
It looks moot for now because the Knicks picked up the rest of their roster with deals for Pablo Prigioni and J.R. Smith and traded for Andrea Bargnani. 
HT: LarryBrownSports
CBS Sports HQ Daily Newsletter
Get the best highlights and stories - yeah, just the good stuff handpicked by our team to start your day.
Please check the opt-in box to acknowledge that you would like to subscribe.
Thanks for signing up!
Keep an eye on your inbox for the latest sports news.
Sorry!
There was an error processing your subscription.
There are just three games on this Tuesday night, but some big stars are in action

Walton, whose new-look Lakers have started off 0-3, is followed by Tom Thibodeau (Wolves) and...

Rondo spoke in detail about the incident that earned him a three-game suspension
Kobe stans will never give LeBron the credit he deserves during his time in L.A.

The newest Golden State Warriors star hasn't seen the court since January after tearing his...