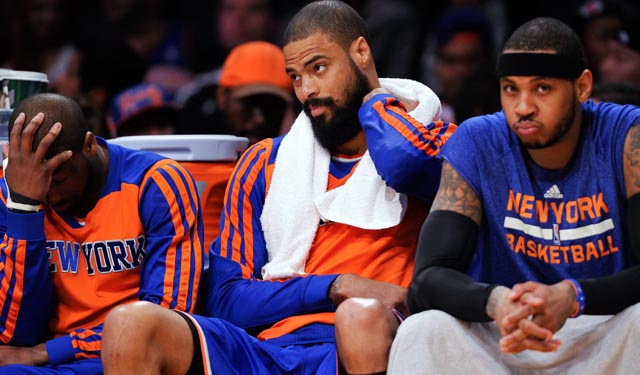 More Offseason Analysis: Coaching changes, news | Free Agency | Draft
The Carmelo Anthony free agency tour is going to start Tuesday at 12:01 a.m. when teams can start pitching the New York Knicks' unrestricted free agent on joining their respective team. Carmelo has been linked to the Miami Heat, Chicago Bulls, Houston Rockets, Dallas Mavericks, and Los Angeles Lakers as likely suitors this summer.
According to Marc Stein of ESPN.com, the tour will begin one minute after midnight on Tuesday in Chicago with the Bulls. After that, he'll head to Texas to visit the Rockets and then the Mavericks. He's expected to to visit the Lakers in Los Angeles some time next week as well. Nothing has been reported about Anthony and the Heat.
Carmelo Anthony is planning to meet with the Chicago Bulls in Chicago on the opening day of free agency after the NBA's offseason market officially opens Tuesday at 12:01 a.m., according to sources familiar with Anthony's plans.

Sources told ESPN.com that Anthony is in the process of arranging a trip to Chicago to meet with the Bulls, then intends to travel to Texas for Wednesday meetings with both the Houston Rockets and the Dallas Mavericks.

Sources say Anthony is likely to visit the Rockets first on Wednesday, followed by the Mavericks in the afternoon.

Anthony, who maintains an offseason home in Los Angeles, is also expected to meet with the Los Angeles Lakers face-to-face next week.
Anthony will be the most sought after free agent on the market because he's more likely to have more real suitors for his services than LeBron James will. The Bulls have been reportedly checking into Anthony's personality as a player and a teammate with former coaches as they have more interest in him than pursuing a trade for Kevin Love. The Rockets have reportedly been targeting Melo as their third star next to Dwight Howard and James Harden. The Mavericks would love to put him next to Dirk Nowitzki and former teammate Tyson Chandler. 
The Lakers could probably use Melo's services the most considering their roster consists of Kobe Bryant, Julius Randle, and that's about it. Anthony averaged 27.8 points, 8.1 rebounds, and 3.1 assists last season while making 45.2 percent of his field goals and 40.2 percent of his 3-pointers. It didn't lead to much though, as a mess of a Knicks team won just 37 games and missed the playoffs. Carmelo has finished top 8 in points per game in each of the last nine seasons.