Report: Carmelo had meeting to discuss free agency on Friday
Carmelo Anthony reportedly discussed his future over dinner late last week.
• 1 min read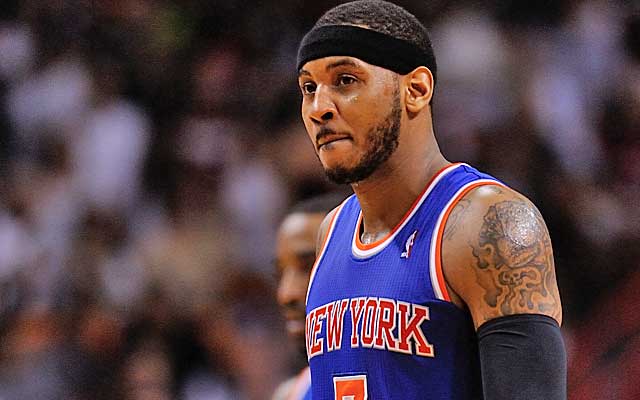 More Knicks: Nuggets owner: Shaw staying | Expert Picks | Latest news, notes
Carmelo Anthony had a dinner meeting on Friday with a group that included agent Leon Rose and advisor William Wesley, according to the New York Post's Marc Berman. The purpose was reportedly to discuss the star forward's options in free agency. He has said he is going to opt out of the final year of his contract and become a free agent in July.
Anthony met with New York Knicks president Phil Jackson at the end of April, and Jackson reportedly told him that Steve Kerr would be the next head coach in New York. With Kerr choosing the Golden State Warriors instead, it is unclear where the Knicks are headed on that front and how it will affect Anthony. If he ends up choosing New York, he'd be betting on Jackson to find a way to turn things around, but there are a lot of question marks surrounding the franchise.
The two other teams most often mentioned near his name are the Houston Rockets and Chicago Bulls, and both of them would have to make moves to facilitate acquiring him. The Kevin Love trade situation might also complicate things for prospective Anthony suitors. 
As for the Los Angeles Lakers, well, the Post says they won't be involved:
The Lakers have cap space but sources maintain they aren't too interested in Anthony as a fit with Kobe Bryant. Nor is Lakers president Jeanie Buss enthralled with stealing Anthony from Jackson, her fiancé.
Anthony and company surely had plenty to talk about.
The investigation detailed a hostile workplace environment

Cousins suffered a torn Achilles tendon on Jan. 26, and will miss the rest of the season

Ingram has become one of the team's go-to players with Lonzo Ball sidelined with an injury
Giannis skipped EuroBasket last summer, and has missed four games this season with knee so...

Some of the best and worst from the league as we head into the home stretch of the season

Cuban acknowledged that tanking is 'brutal' and that he will no longer do that after this...